New Year, New Deals!
Posted on
December 28, 2015
Happy New Year from all of us at ThriftSmart! Our January sale calendar is ready for you. Mark your calendar for our big 50% off sales on January 7th and 18th. Want to view the calendar in Spanish? Click here!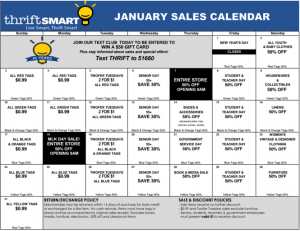 We've looking forward to another great year of making our world a little bit better by recycling your gently-used donations, providing awesome thrifting, and supporting great charities. If you want to start out the New Year by clearing out some of the holiday clutter, you can donate your gently-used clothing, household items and furniture to us and we'll multiply that good deed a few times over. SCHEDULE A FREE PICKUP or LOCATE A DONATION BIN today, or drop of your items at one of our stores.