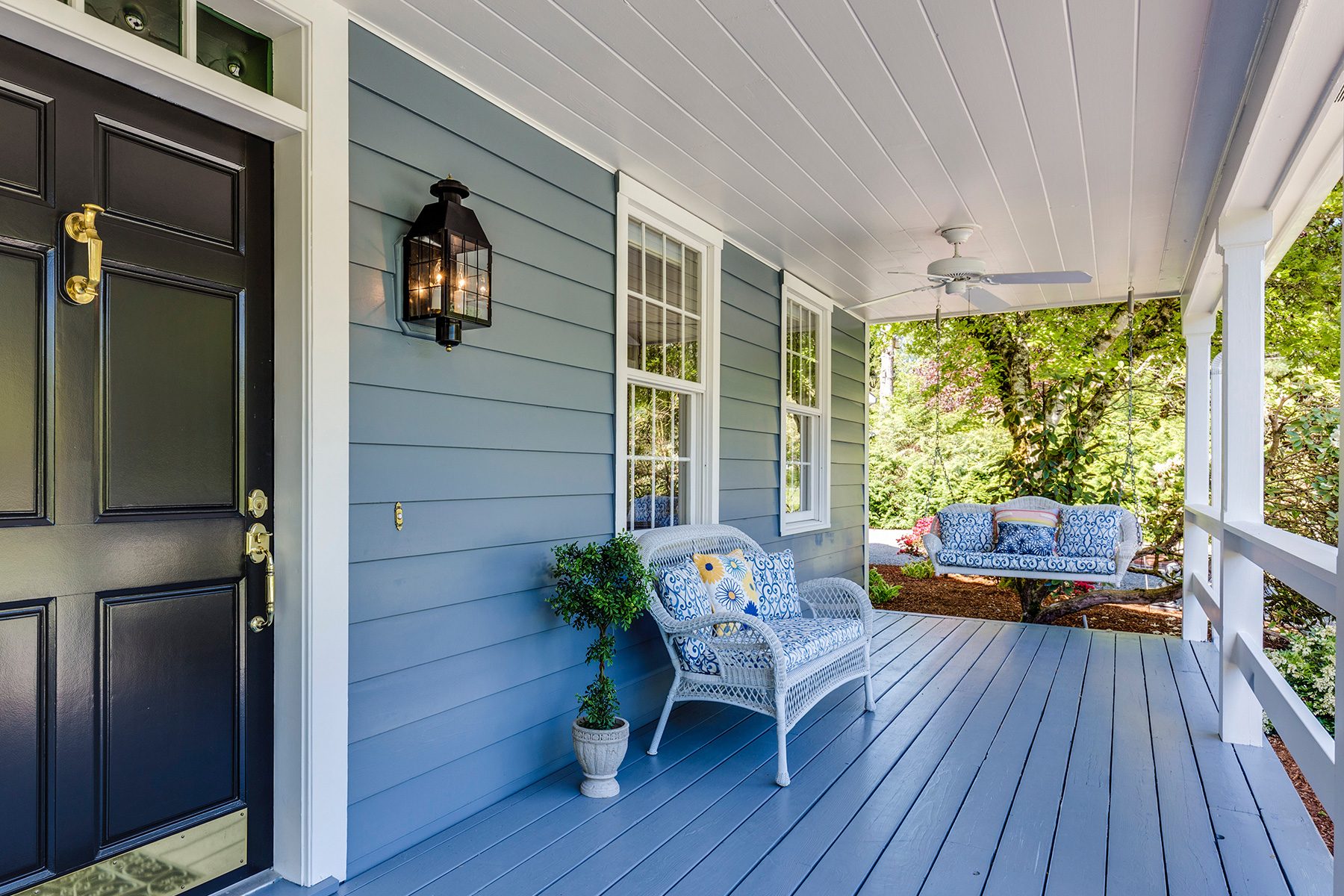 Thrifty Ways to Freshen up Your Front Porch for Spring
Want to revamp your porch, but don't know how? Here are some ideas!
The weather is warming up, and that means it's time to start thinking about ways to freshen up your front porch to welcome the new season. You would be amazed how much a few simple changes can make a big impact, and you don't have to spend a lot of money to do it!
In this blog post, we will discuss some affordable ways to give your front porch a fresh look this spring. We'll talk about furniture, decorations, flowers, and more! So whether you're looking for a quick fix or want to take your time and make a bigger transformation, we've got you covered.
Do Some Spring Cleaning
Before you start decorating, first make sure your porch is clean, tidy, and prepared for new accents. Whether or not it's been a while since you last spruced up your front porch, doing some spring cleaning will help make the area look more welcoming and inviting.
Start by sweeping away any leaves, dirt, dust, cobwebs, or other debris that may have collected during the winter months. Then, give your porch a good mopping to remove any stubborn dirt. You can use a regular mop, a sponge, or a deck brush with warm water and dish soap to do the job.
Finally, if you have a power washer, now would be a great time to use it to clean off any stubborn stains from your siding and walkways.
Replace Your Doormat
If your old doormat is looking a little worn down, it might be time to replace it. A fresh doormat is a great way to add some color and personality to your front porch, and it's also one of the easiest and cheapest ways to freshen up the space!
You can find doormats in just about any style or design, so take some time to find one that best suits your taste. If you enjoy seasonal decorating, you could consider buying a spring-themed doormat with floral designs, birds, or fresh, bright colors like green, pink, and yellow.
You can find basic doormats for as little as $15 at most stores, and when you go to thrift stores like Thriftsmart, you can often find them for quite less. And if you're feeling really creative, you can even DIY your own doormat with a stencil and some paint.
Repaint or Refinish Your Front Door
If you haven't touched up the color on your front door in a while, it might be time for an update. Depending on what kind of door you have, this may be another easy way to freshen up your front porch that doesn't cost much money and requires little effort!
For those who have painted doors, the process is fairly simple. Pick out a new paint color you like, make sure you get a finish and paint type that is suitable for outdoor use, get a few paint brushes and rollers, and set aside a Saturday for a fun DIY project.
For those who have wood doors that use wood stains or finish, the process is fairly similar, with a couple more complications. If you're going from a dark color to a light color (which is recommended if you're aiming for a light, springtime atmosphere), you may need to sand your door before refinishing it. If you're going from light to dark, you might be able to get away with directly applying a new finish. When in doubt, ask your local hardware or lumber store for advice.
Add (Or Move Around) Some Furniture
One of the quickest and easiest ways to add some life (and comfort) to your front porch is by adding some furniture. This can include a chair, bench, table and chairs, or anything else you'd like! You don't have to spend a lot of money on new furniture either; if you're patient and creative, there are plenty of affordable options out there.
For example, Thriftsmart often has a variety of used furniture for sale, and there are also many websites like Craigslist and Facebook Marketplace where you can find gently used pieces. You can either use them as-is, or you can repaint or refinish the pieces you find to better fit your porch's color scheme and style. If you're feeling extra crafty, you could also consider making your own furniture from scratch using reclaimed wood or other recycled materials.
Add a Touch of Greenery
Adding some plants to your front porch is another great way to make it feel more welcoming and inviting. Not only do plants add a splash of color, but they also help to purify the air and can provide some privacy if needed. Plus, flowers and greenery are incredibly season-appropriate for spring — especially if you choose spring bloomers like daffodils, crocuses, or hyacinths.
When choosing plants for your front porch, think about what kind of environment you have. If you live in an area with a lot of wind, you'll want to choose plants that are resistant to wind and have sturdy bases — like palms or crepe myrtle. If you live in a sunny area, make sure to choose plants that will thrive in direct sunlight, like coneflowers and daylilies. If your porch has an awning or doesn't receive much light throughout the day, choose shade-loving plants like ferns or primroses.
Update Your Pots and Planters
If you're adding new plants to your porch, you can find pots and planters in all shapes and sizes at most stores, so finding something to fit your style shouldn't be too difficult — especially if you shop at a thrift store like Thriftsmart. You could also consider repurposing something like an old children's wagon or wheelbarrow, so long as it isn't going to be exposed to the weather.
You can also take this opportunity to update your existing planters by painting them a new, more lively color, adding in some fresh soil and mulch, and updating the plants that are currently growing inside of them. Updating your planters can be a great subtle way of sprucing up your porch and adding some aesthetic continuity into a collection of odd, mismatched pots. Simply pick a couple colors or patterns and paint them all to match.
Finally, if you're looking for an even bigger project, then consider creating your own planters from scratch! There are tons of tutorials online that show how to make everything from hanging baskets out of old tires to wall planters made with tin cans and pallet wood — so get creative and have fun! It's more eco-friendly than buying new planters, and it's a great way to spend a weekend.
Use Small Decorations and Accents
One of the quickest, easiest, and usually most affordable ways to add personality to your front porch is by adding some extra decorations here and there. This could include anything from a wreath or flag to strings of lights or a wind chime.
You could also get creative and make your own decorations out of recycled materials. For example, you could make a simple wreath out of old clothes hangers and some ribbon, or create a festive banner out of recycled paper. If you're feeling really ambitious, you could even build a small bench or table from reclaimed wood and use it as a decoration or a plant display!
Conclusion
These are just a few ideas to help get your started! There are so many ways you can add some springtime flair to your front porch, and they don't have to break the bank. A little creativity and resourcefulness go a long way in making your home feel more inviting and brightening up even the dullest of spaces.
And if you're looking for quirky furniture, decorations, or supplies for a DIY project, make sure to stop by Thriftsmart — we have a wide selection of previously-loved goods at great prices. Plus, all of our proceeds go to local nonprofits, so you can feel good about shopping with us.