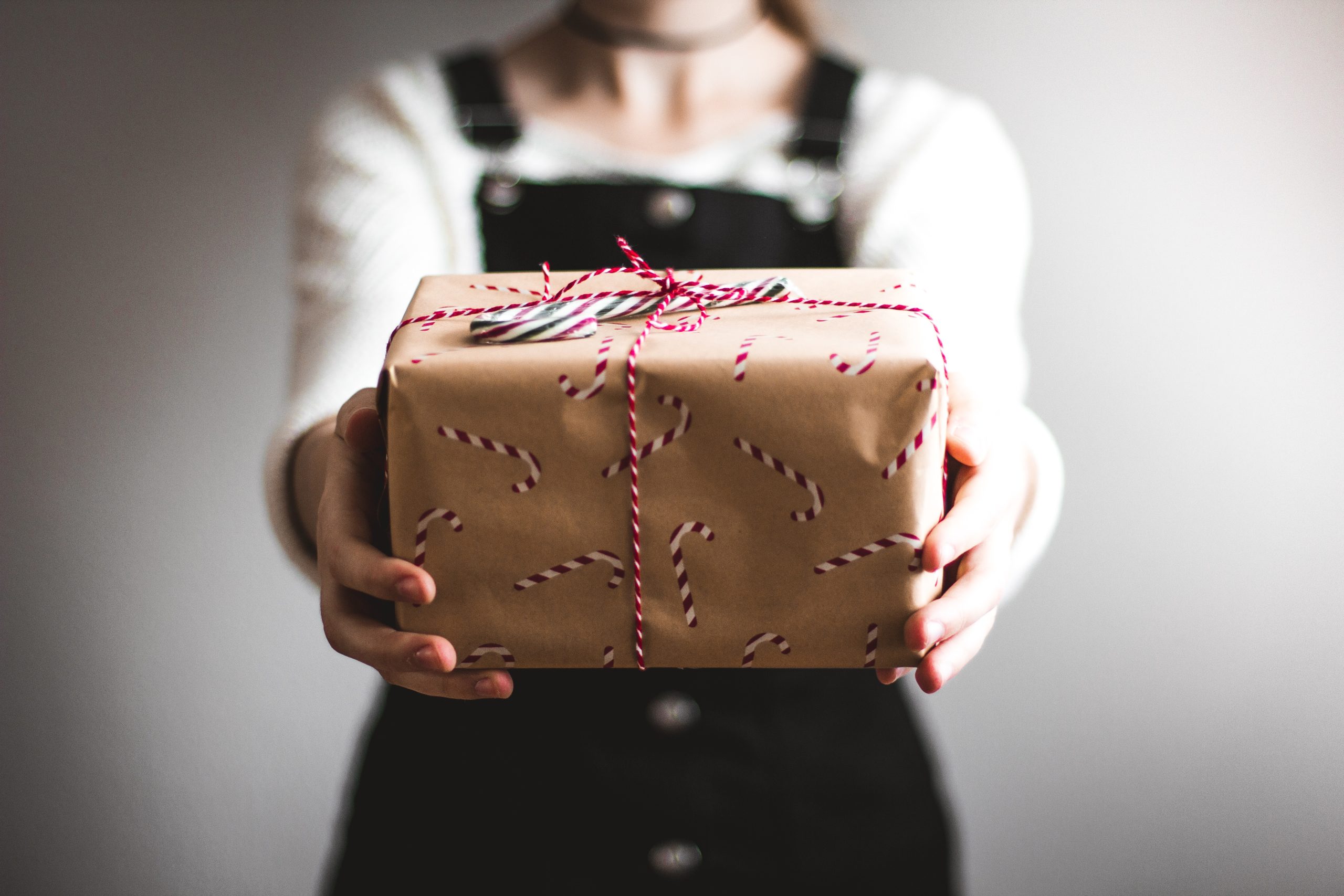 10 Popular Gifts For The Person Who Has Everything
Posted on
November 5, 2021
Once again, the holidays are almost upon us. It's time to think about what to give to all the special people in our lives, including the ones who seem to have everything. You know the ones – who, despite our pleas not to buy anything for themselves after September 1st, they slowly eat up those Christmas gift ideas we've been adding to our secret list all year! Well have no fear, ThriftSmart is here to help with our list of 10 great gifts even the compulsive Amazon shopper may not have thought of.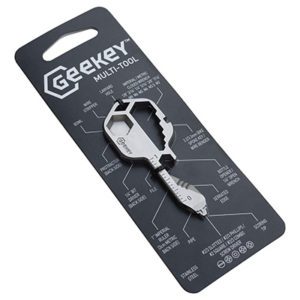 This beautifully engineered, key-shaped tool has features that would make MacGyver envious. If you have anyone in your life who gets into "adventures" at the drop of a hat, they'll truly appreciate everything this tough but tiny implement can do.
First of all, it's shaped like a key and fits on a keychain or a lanyard, making it extremely compact and quickly accessible. But, don't be fooled by its small size.
It's made of 420 stainless steel to be incredibly rugged.
It boasts 16+ different uses to get your giftee out of a multitude of everyday jams.
The Geekey Multi-Tool includes:
A protractor to draw angles
A 1/4" bit driver
A mini-ruler on each side (1" or 3 cm)
A wire stripper
A wire bender/bike spoke key
A serrated cutting edge
A 1/4" open wrench
A bottle opener
A scoring tip
A file
A closed wrench with multiple imperial (1/8", 3/16",1/4",5/16",3/8", 7/16") and metric (M8, M6, M5, M4, M3.5, M2) openings
A screwdriver tip with slotted (#2/3), Phillips (#2/3), square (#2), and combo (#2/3) bits all-in-one
Who this is for: Any DIYer, camper, biker, fishing enthusiast, or all-around adventurer would enjoy this thoughtful and versatile gift.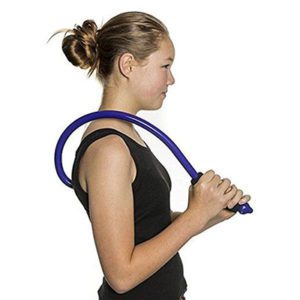 This is the perfect gift for anyone on your list who suffers physical discomfort from too much desk time or overexertion from everyday stresses and strains.
This is a lightweight self-acupressure device that can be used anywhere on the body that is stiff or sore to relieve stress and tension.
The Q-Flex is shaped like a question mark to find hard-to-reach areas on the shoulders, neck, and back and has a pear-shaped massage tip to target pressure points for quick relief.
Unlike other cane-shaped, hard plastic devices marketed for pain relief, the Q-Flex is made of a flexible plastic that offers the chance to use more pressure to relieve pain and stiffness. The hand grip is flexible foam so it is comfortable to hold while using it.
The Q-Flex comes with a simple user guide showing the pressure points that can be stimulated to bring pain relief.
Who this is for: Your favorite desk jockey or fitness enthusiast will truly enjoy the gift of relief from pain and stress.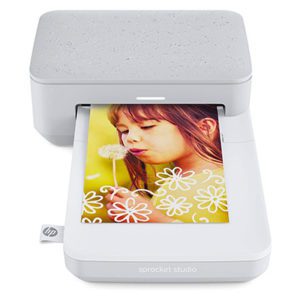 For that avid photographer in your life who posts photos everywhere, this is the perfect gift.
The HP Sprocket Portable Photo Printer is about the size of a smartphone and wirelessly prints photos using the HP Sprocket app. It operates via a bluetooth connection and prints photos instantly from any smartphone or tablet.
This device prints using ZINK® Zero Ink technology. The paper used to print photos contains 100 billion dye crystals. Thermal heating elements inside the printer activate the yellow, cyan, and magenta crystals to create the vibrant color output. This means there's no need to buy ink or toner.
The images are high-resolution, lab quality and will last for years.
The printer comes with a setup card, 10 sheets of HP ZINK™ sticky-backed photo paper, micro USB cable, and regulatory sheet.
The sticky back of the paper makes it great for creating fridge magnets or putting photos into albums or scrapbooks.
Who this is for: Anyone who loves creating memories will have hours of fun with this gift.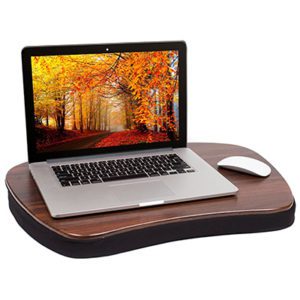 This is an excellent gift for anyone who likes to work, read or do crafts at home on a couch, bed, or chair.
The lap desk comes in different models and finishes with options to add an LED light and a wrist rest.
It is designed to support up to a 17" laptop or tablet with a keyboard. There is space for a mouse pad and a slot to hold a smartphone.
The base is constructed of memory foam to provide cool comfort during long work sessions and has a carry handle.
It weighs approximately 5 lbs. and is suitable for use during plane travel.
Who this is for: Anyone who appreciates having a mobile workstation will enjoy this thoughtful gift.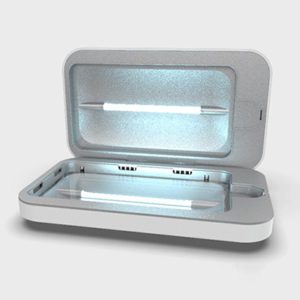 In these times, keeping the surfaces we touch germ-free is critical to preventing the spread of disease. Give the gift of safety with the PhoneSoap 3 UV Phone Sanitizer & Charger.
Statistics say that phones harbor 18x more bacteria than a public restroom.
This sanitizer uses UV-C light to kill 99.99% of the bacteria and viruses that live on your phone, keys, wallet, jewelry, or other small frequently touched items in just 10 minutes. Sanitizing a phone in the case is recommended and the light will penetrate most phone cases.
The unit also contains an amplifier to hear alarms and notifications, as well as 2 universal charging ports. Sanitizing and charging can be done at the same time.
It's simple to use—plug in the provided power supply, place a phone or other small item in the sanitizing bay and close the lid. This starts the sanitizing action. When the blue light on top turns off, the item is sanitized.
Who this is for: This sanitizer is a thoughtful gift for anyone who wants to have peace of mind around their health and safety.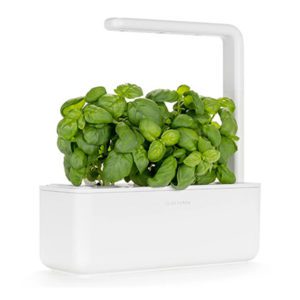 Anyone who loves to cook with fresh ingredients or enjoys beautiful houseplants will enjoy the Click and Grow Smart Garden 3. It is an indoor garden that waters itself and comes with its own growing light.
The secret to growing beautiful, healthy plants is the specially prepared soil in the plant pods that are included. They can be chosen with seeds in them or the recipient can add their own seeds.
The garden comes with a base that holds 3 plant pods, a power cord, the water distribution system, 3 complimentary basil plant pods with growing nutrients, the LED grow light with 2 extension arms, and an app.
To assemble the garden:
Unwrap the plant pods and place them in the 3 round wells on the base
Snap the lids and biodomes over the pods
Add water into the well on the side of the base until the float is level with the top of the base
Then plug in the unit. The plants will begin to sprout in a few days. The water well holds enough to water the plants for 3 weeks and then you refill it.
Who this is for: Anyone who wants an easy way to grow houseplants or herbs will love the Click and Grow Smart Garden.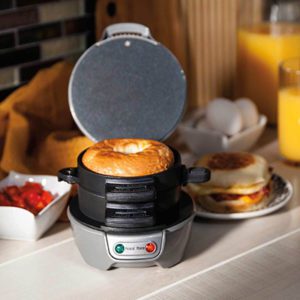 If you know someone who loves to eat a hearty breakfast, but is always on the go, this is an excellent gift. Create your favorite breakfast sandwich in just 5 minutes!
It works like this:
Add bread on the bottom—English muffin, biscuit, bagel, or pancake
Put in toppings like cheese, vegetables, or precooked meat
Add a fresh egg
Top it with bread and close the lid
After 5 minutes, slide out the egg cooking plate and the sandwich is done. Easy!
The removable parts are dishwasher-safe and the cooking surfaces are non-stick for easy cleanup. It even comes in 3 colors to match every kitchen.
Who this is for: Anyone looking for a convenient way to enjoy a quick, healthy breakfast will enjoy this gift.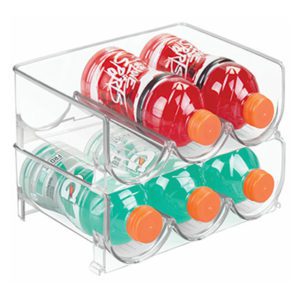 Solve the dilemma of how to store water bottles at home when you give these clever M Design stackable water bottle holders.
The clear BPA and chlorine-free holders hold 3 bottles each and can be stacked easily. They come in packs of 2, 4, or 8. The bottles lay horizontally for easy access.
They are an easy way to keep your counter, pantry, table, or fridge organized and have your bottles of water, sport drinks or soda accessible.
Who this is for: Anyone who needs some help in organizing bottles of non-alcoholic drinks will thank you for this thoughtful gift.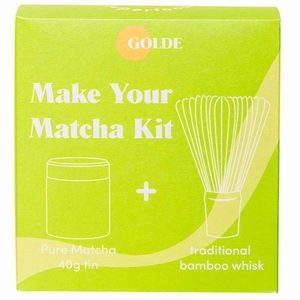 Give the gift of healthy superfood energy with this matcha kit.
It includes:
A 40g tin of matcha powder
A bamboo whisk
To make the perfect pick-me-up:
Add 1 scoop of matcha powder to a cup
Add sweetener (agave, honey, sugar, etc.)
Pour in hot water and whisk
Pour the matcha into a cup of dairy or non-dairy milk
Serve
Who this gift is for: Anyone looking for a natural, tasty boost in energy and immunity will love this gift.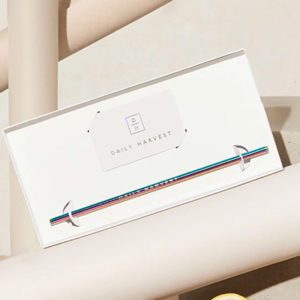 The gift of choice…
Your recipient can choose from an assortment of pre-made meals and treats featuring real organic superfoods that are a snap to prepare.
Delectable Harvest Bowls brimming with vegetables and spices
Ice cold smoothies with real fruit, nuts, and greens
Crunchy flatbreads covered with vegetables and spices
Satisfying forager bowls with fruit and grains
Delicious, nutrient-packed soups
Decadent, creamy frozen treats
And more…
Every ingredient is responsibly sourced and picked at the peak of ripeness, then immediately frozen for freshness.
There are no preservatives or added sugars.
The cards are available in denominations between $50-200.
Who this gift is for: Anyone seeking to add more plant-based foods to their diet, but doesn't have time to prepare them or needs some ideas to get started.
And Don't Forget the Amazing Gift Selection at ThriftSmart
ThriftSmart sells quality, gently-used brand name clothing, shoes, and household items.
Our clothes and shoes are sold tax-free. 100% of our profits go to local charities. You're sure to find the perfect gift for that special someone and feel good about helping others and the planet with your purchase. Visit ThriftSmart today.