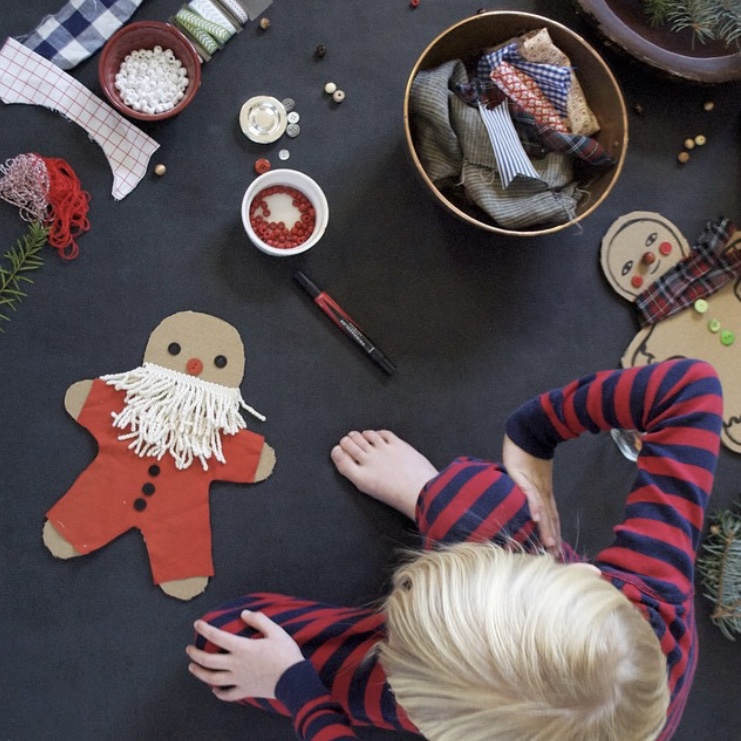 10 Thrifty DIY Ornament Ideas
Posted on
December 7, 2018
It's that time of year again, and apart from baking our family's favorite holiday treat or stringing Christmas lights from every corner, many of us look most forward to decorating our tree with the trappings of Christmas spirit.

Part of the delight of gathering around during this age-old tradition is hanging the beloved trinkets that conjure up our happiest of memories – whether a craft we've made with our children, a place we've visited with family or friends, or a handmade work of art constructed with artifacts of our past.

In true holiday fashion, we've handpicked our top 10 favorite DIY thrifted ornaments as a gift of inspiration this season. Swipe our gallery for new ways to upcycle and reuse thrifted goods as ornaments your family will love hanging around the tree for years to come!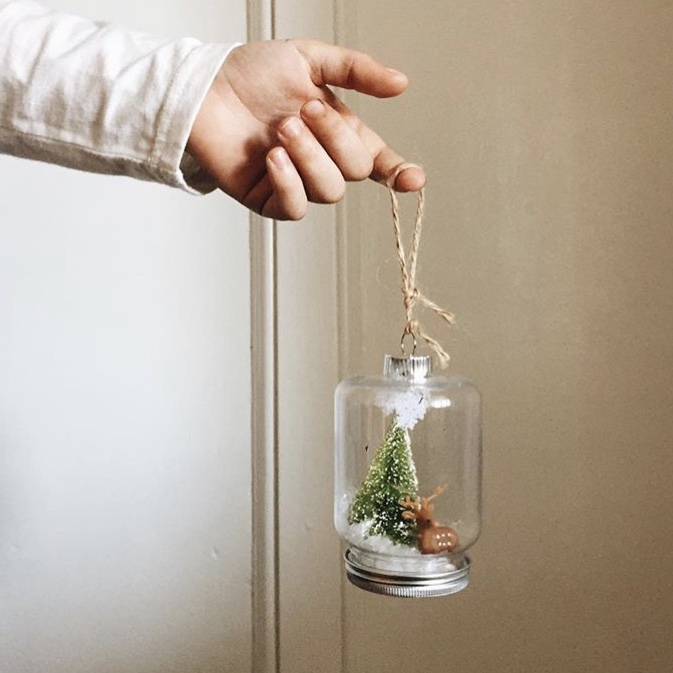 A wonderful way to repurpose mason jars: handmade snow globes! Simply add any winter figurines you like and sprinkle in some sugar, salt or faux snow. To finish, hot glue both the lid and hanging fixture, and rope with simple twine. Voila! (By Sarah Hart of www.homeiswherethehartisblog.com)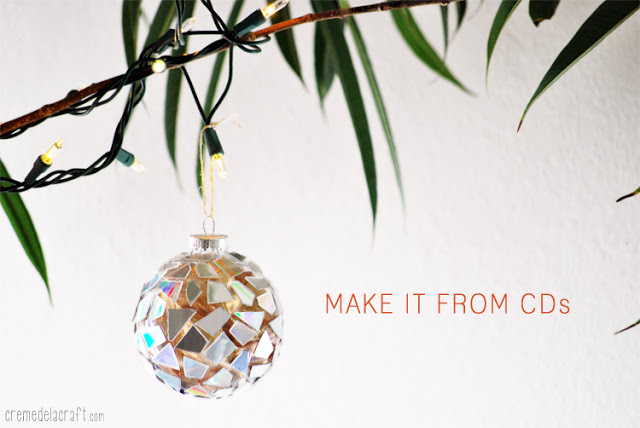 Find a new function for those old CDs or DVDs lying around, and add some sparkle to dull orb ornaments! This is a fun craft to do with older kids. (Tutorial at cremedelacraft.com)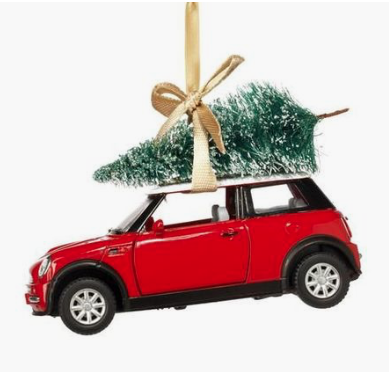 Upcycle little toy cars into that precious "bring a tree home for Christmas" moment! All you need is a baby Christmas tree, some ribbon and hot glue! (by HGTV)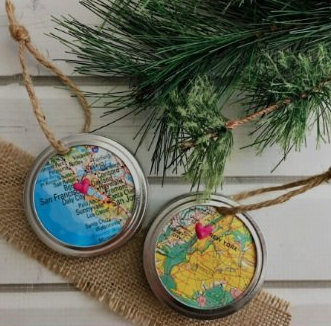 Find an old map of the places you've lived or visited and use mason jar lids for this adorable memento! Great gift idea for family and friends. (Full tutorial on happy-mothering.com)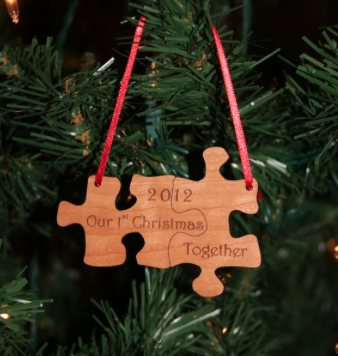 Such a creative use for those puzzles you've completed so many times. Handwrite or hodgepodge a meaningful phrase or quote (a la "We fit together like pieces of a puzzle"), and give to your sweetheart.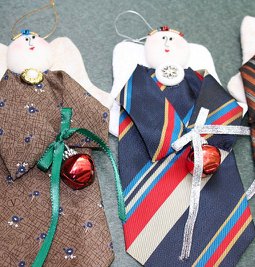 Patterned thrifted ties make the sweetest angel ornaments. Simplify these angels from Etsy by just using poster board and sharpie for the wings and face. Buttons, bells and bows add the perfect touch on these cherubim, too! Simply cut the tie to the preferred length, leaving height for the arms, then fold over and pin down using hot glue.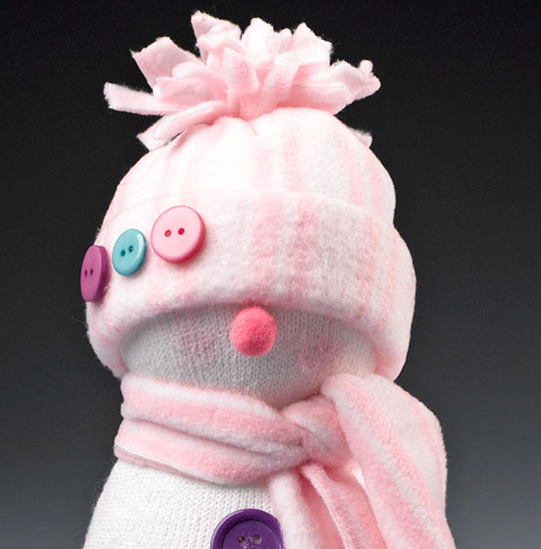 Utilize outgrown or stray children's socks as little snowman! Fabric scraps and buttons are great accessories, and you can choose any color combo you want. (Full tutorial on craftsncoffee.com – just stick a paperclip through the tip of the hat to hang!)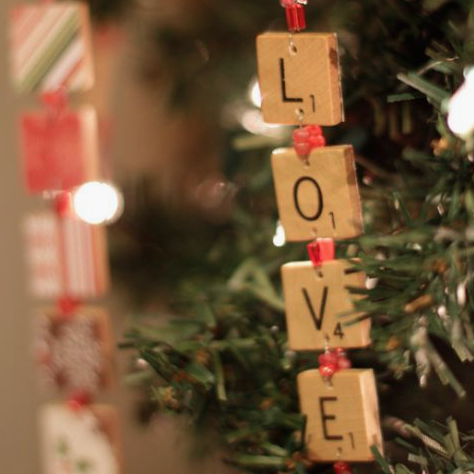 We L-O-V-E this Scrabble re-purpose idea! With spare beads, a drill and some wire, this makes the cutest little curio. (Tutorial at womansday.com)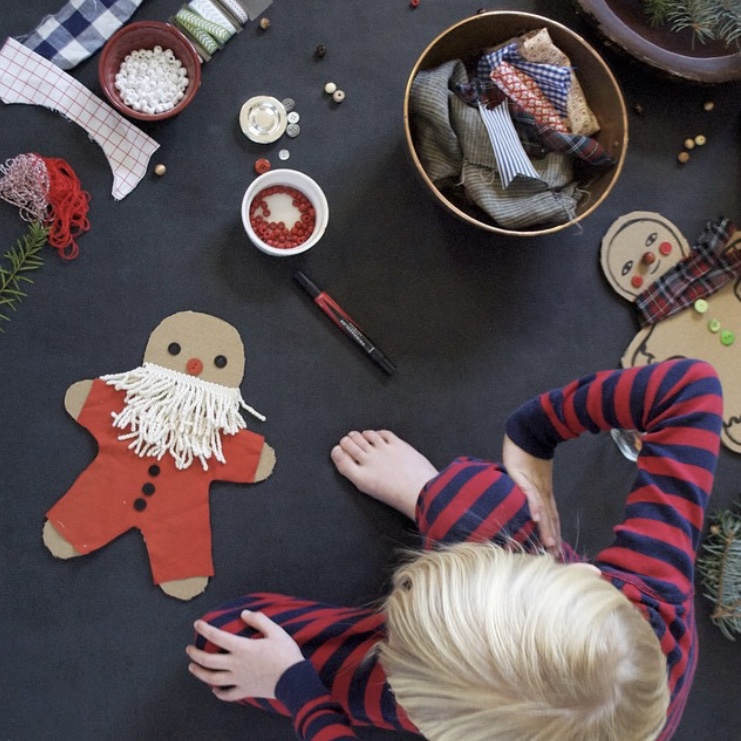 We adore these little cardboard gingerbread men made with spare buttons, yarn and fabric! Great holiday activity for kids, and to make them into ornaments, just poke a hole through with some wire, ribbon or twine! (Full tutorial at mermagblog.com)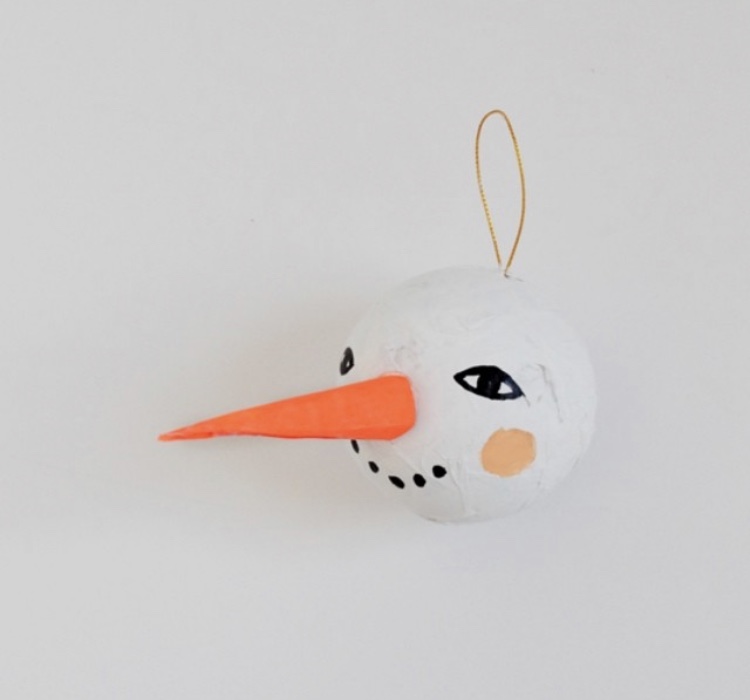 What a fresh take on the classic snowman! Use a bulb ornament, ping pong ball or styrofoam. From there, it's just paper, string and a bit of paint. Love! (Tutorial on mermagblog.com)