14 Ways To Update Your Kitchen Without Breaking The Bank
Posted on
February 9, 2021
Following the latest kitchen trends of tastemakers in design like Great Britain's DeVol Kitchens, Pacific Northwest's Heidi Callier, and Michigan-based Jean Stoffer, we couldn't be more thrilled to see modern kitchens that juxtapose clean lines with beautifully aged pieces, making the kitchen a place of story and sleek inspiration as well as function.
And if your kitchen reno budget is on-hold for the moment, there are at least a handful of upgrades you can make that will give a wink to your wallet. In this article, we've listed 14 ways to update your kitchen without breaking the bank!
1. CLEAR THE CLUTTER
We know folks have different opinions about what constitutes as "clutter," but we appreciate this DeVol kitchen's clean countertops and function over form. We will always and forever start with this step: declutter! Donate any unwanted or rarely used items, and start fresh! Take everything off the counters and add back only what you use on a daily basis. This will immediately freshen up and modernize any space! See below.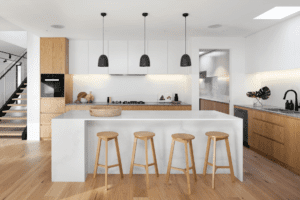 2. SLEEK STORAGE
Consider organizing smaller must-haves like kosher salt, herbs and oil with simple trays, a beautiful bowl or storage baskets. Place daily (attractive) utensils like wooden spoons and spatulas in a beautiful, thrifted stone vase. Pour coffee grounds into a stainless steel canister. The kitchen may be a place of work, but it doesn't have to be a place without beauty.
3. FRESH COAT OF PAINT
This is an obvious route for cabinets or walls that are outdated in color. But paint colors can be overwhelming, and it's easy to go wrong more often than right. Paint choice errors can be pricey, too. Not sure where to turn? Grab some inspo over at In Honor Of Design to see how bloggers Ana and Gabe selected paint colors for their new kitchen!
4. THE SOFT CLOSE HINGE
You've seen them before and thought to yourself, "Wouldn't it be nice to be able to afford such luxury?!" Well, you might be surprised to know that soft-close hinges are both an impressive feature for resale, and also quite affordable! Once you encounter the hush, you'll wonder how you handled the noise of the cabinets slam in your prior life.
5. THE HARDWARE
If you do nothing else, this will be a game-changer. Go simple with classic chrome cabinet pulls or be on-trend with oil-rubbed bronze or aged brass! Even without painting, modern hardware on those cabinets will instantly dress them up and make them look newer – scout's honor!
6. INSTALL PULLOUTS
Pullout drawers behind lower cabinet doors are all the rage in kitchen design, and for good reason. They add so much function! Rather than crouching and reaching around things blindly, you're simply opening a lower door and pulling a drawer. This may not do much for aesthetics, but it is certainly a worthy upgrade for your kitchen.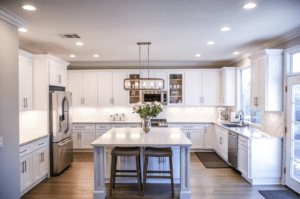 7. OPEN SHELVING / DOORLESS CABINETS
In case you've been under a rock lately, we're here to tell you open shelving is in! If you hate your cabinets, installing open shelves is a fresh option for you. But if you're worried about dust or simply still need the closed cabinet storage, doorless lower cabinets are an industrial option that captures the look, but keeps the storage. Glass-paned cabinets are a classy "open shelf" look, but can get pricey.
8. ADD A VINTAGE TABLE
Negative or empty space? Antique tables like this one via This Old Hudson of New York serve well as extra countertops or islands and are beautiful, functional and very in vogue. This is a fab "update" for anyone with limited countertop space or no existing island. If you've got a smaller kitchen that won't fit an island anyway, adding a thrifted table against the wall would serve as a nice coffee bar space or extra prep area.
9. CHIC BARSTOOLS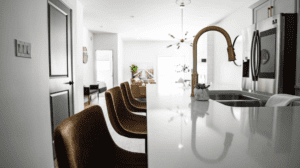 Beefing up your barstool game can be a thrifty way to "renovate" without busting any walls…or wallets. Choose something that matches your style but also fits your kitchen color scheme. You can find these used on Facebook Marketplace, your local thrift store (wink wink), or even eBay!
10. NEW LIGHT FIXTURES
Depending on your budget, changing the light fixtures can be a huge facelift for any room, but especially your kitchen! This is where all your house guests gather, so having updated light fixtures is a huge focal point. We recommend buying second-hand, but if you need more options, build.com is a great resource!
11. LINENS
New textiles like dish towels, beautiful rugs and floor mats are accessories that speak volumes to your space! Rugs and runners are GREAT to buy thrifted! If you have a busy backsplash or intricate granite design, contrast with clean, simple linens! Too much business can appear chaotic, so keep things clean and simple. On the other hand, because linens are so interchangeable, they can also be great pops of color in a neutral palette! Let your personality shine here.
12. SLEEK SINK FAUCET
Whether your vibe is industrial, traditional or modern, there are many affordable kitchen faucets at Home Depot and Lowes. This is an update you WILL SEE EVERY DAY, and we promise, it will spruce things up. Let's be real, you spend most of your kitchen time at the sink, plus faucets get grimey and old, so updating this space is huge. People see the faucet more than they care about that expensive trendy farmhouse sink you've been eying, so remember, bang for your buck here!
13. TINY ACCESSORY UPGRADES
Even the smallest of upgrades can pack a big punch! Modernizing paper towel holders and soap dispensers, finding a thrifted tea kettle that brings you joy, or even upgrading small appliances like a new toaster can be low-cost upgrades that change the entire feel of your space!
14. FINISHING TOUCHES
Don't forget art and decor! Adding beautiful art on the walls (can we say "still life?") can change the whole look and feel of a room. One of the hottest trends in kitchens right now is antique art! Also, don't forget a bit of life! Potted plants or fresh flowers always add a breath of fresh air. If you're intimidated by real greenery, try faux greenery like this! Set a framed art or a wooden cutting board against backsplash to create a feeling of luxury and inspiration.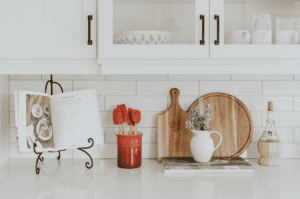 So, you see? You can update your kitchen on a budget! We hope this guide helps give your kitchen the little facelift it deserves! As always, don't forget to donate any unwanted or unused items to ThriftSmart!