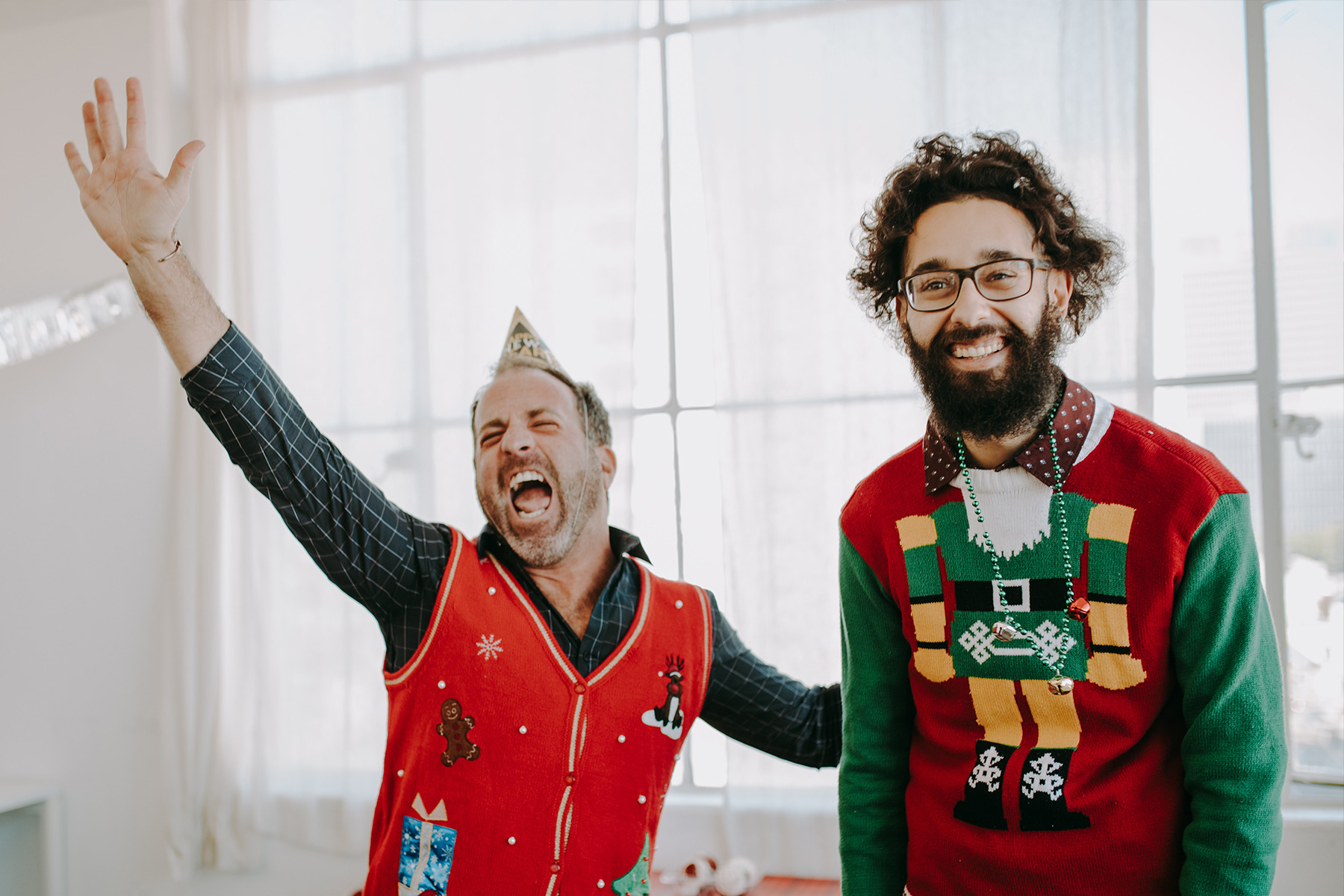 5 Tips for Throwing a Ugly Sweater Christmas Party
Posted on
December 6, 2021
5 helpful things to remember when you're planning one of the most fun holiday traditions
Christmas is filled with so many great traditions: decorating your tree, hanging your stockings, eating Christmas dinner with your family, and, most importantly, having wacky parties. Whether it's white elephant parties, tacky ornament parties or ugly sweater parties, there's a fun theme for everyone's taste. But, without a doubt, the most popular of them all is the ugly sweater party.
If you're thinking of throwing your own ugly sweater party, read on to get some great tips on things you should do to prepare.
1. Get Ugly Sweaters
Starting with the most obvious thing, you're going to need ugly sweaters to throw an ugly sweater party. The best option is if you have an ugly sweater that was sincerely gifted to you lying around. But if you don't have that, the second best thing is to find one at a thrift store. ThriftSmart sells tons of sweaters that people wanted to give away, which makes it a goldmine for finding the perfect ugly sweater.
If you don't feel like going to a thrift store, you can also try DIYing an ugly sweater from a sweater you already have, or you can buy a new ugly sweater. Be creative and have fun with it.
Besides getting a sweater for just yourself, you want to ensure that your guests also have the appropriate party wear. The standard is for everyone to bring their own sweaters, but if some of your guests don't have one, it's nice to have some extras. Whether you're shopping for your sweaters in your closet, at a thrift store or in a regular store, try to snag a few extras just in case someone shows up unprepared.
2. Get Appropriate Decorations
Ugly sweater parties don't just stop at the sweaters — you have to have an appropriate atmosphere as well. Get some wacky decorations to make your party space as ugly as your sweaters — throw up a garland made out of socks, hang some tacky christmas ornaments, or find an obnoxious table cloth. This is also an excellent opportunity to pick some unique items from a thrift store. Since the goal is to be as ugly as possible, your potential is unlimited — the wackier, the better!
3. Have Fun, Themed Activities
A party isn't complete without some fun themed activities to keep your guests entertained. If you feel lost on how to pick activities for an ugly sweater party, here are some ideas.
Craft Table
Round up some popsicle sticks, paints, tinsel, glue guns, and have a few Christmas-themed crafts guests can do. Ornaments, miniature sweaters and mugs are all great options to have available. You can do regular crafts, or you can encourage people to make ugly crafts.
Annoying Gift Exchange
Hybridize your ugly sweater party with a white elephant party by having your guests bring obnoxious, impractical gifts for each other. Bring broken appliances, useless novelty items, and anything else you could think of that you would never earnestly gift someone.
Karaoke Contest
Everyone loves (or hates) karaoke. Upgrade your karaoke game by encouraging guests to only sing the worst Christmas songs they know. Bonus points if they purposely sing it off-key.
4. Incentivize Guest Participation
Nothing is worse than a themed party where none of the guests participate. Make sure you invite people who are game to swallow their pride and wear an ugly sweater. If they don't have an ugly sweater, have some extras prepared, or you can try to coordinate with everyone by buying several of the same type of sweater.
You should also hold an ugly sweater contest to give people some motivation to show up on theme. Try to make prizes for multiple categories so that people can have some fun trying to find a sweater that matches one. Categories can include best overall sweater, funniest sweater, best animal sweater, and most glitzy sweater. Tell your guests what the categories are ahead of time so they can plan accordingly!
5. Get Creative With Your Refreshments
One of the biggest things people look forward to in a party is food. Offer some classics, but also leave a little room for unconventional snacks that fit the theme — the key is to make food that still tastes good but is a little bit "off." Make some ugly sweater cookies by baking and decorating sugar cookies, or offer clam dip; spicy, marinated olives; or sausage lasagna.
For drinks, you can go with the classic Christmas choices such as cranberry vodkas and eggnog cocktails. Or, if you want to throw off your guests, offer some summer drinks like piña coladas or Mai Tais.
In Conclusion: Have Fun!
Planning a party can be stressful, but remember that it's all in the name of having fun. Don't stress too much about it, and remember that materials for an ugly sweater are usually cheap and easily available.
To find some quirky, ugly items that may work great for your party, make sure to visit your local thrift store. Nashville residents can visit ThriftSmart for a wide selection of previously loved items, including holiday-themed ones.