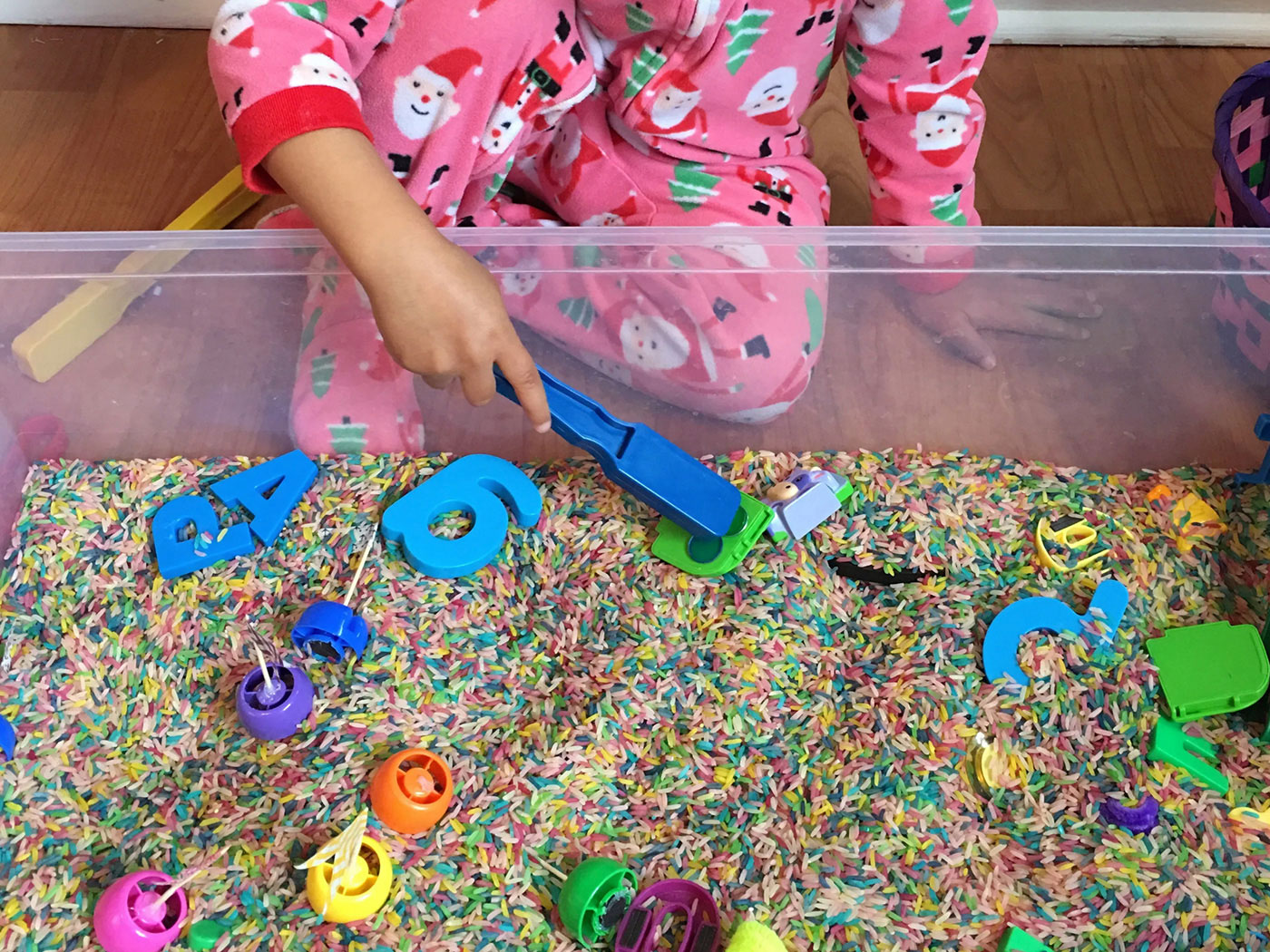 8 Montessori Activities With Household Items!
Posted on
September 10, 2019
What do wooden spoons, cardboard boxes and bottle caps all have in common? Your toddler finds them way more interesting than the shiny new kitchenette their grandma just bought them. Meanwhile, you've considered switching toys because said kitchenette is way nicer than the kitchen of your dreams!
What if you could upcycle those simple household items to not only entertain your tots, but teach them new things about the world around them? It may be back-to-school for big kids, but that doesn't mean the littles should be left out.
Enter Montessori play at home! Montessori is a term referencing the education style and philosophy of Dr. Maria Montessori, who developed a hands-on learning experience that increases children's sense of independence, self-discipline, focus, productivity and ability to connect with others.
There are infinite opportunities for these "little sponges" to soak up some hands-on learning at home without so much as diving into a single toy store or preschool curriculum.
We love how these thrifty-nifty moms have gotten creative in a pinch when their toddler (or even four-year-old) needs a cheap thrill while they whip up dinner, wipe down the kitchen, or, let's be honest, take ten. The best part is these quick and easy homemade ideas are all customizable for different age levels, too!
1. Treasure Hunt Sensory Play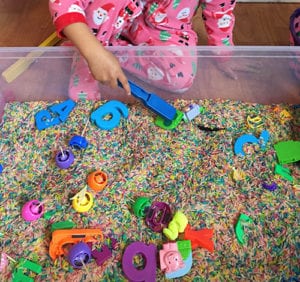 Fill a bin with ice cubes, water or dried pantry goods like rice, beans or corn meal for a base. This colored rice idea is from Happy Toddler Playtime. All that's left to do is hide your treasure! Coins, figurines, repurposed caps, or letter magnets are great for scooping out with beach shovels, spoons, measuring cups, tongs or sifters! Increase focus and practice those fine motor skills! PS – if you're shying away due to the messy-factor, stick a small tarp or table cloth under the bin for easy cleanup!
2. Ice Cube Cap Rescue!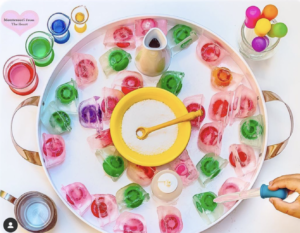 Upcycle all those pouch and milk jug caps for a fun, colorful science experiment like this one from Recycle and Play! Use salt and a spare medicine dropper to melt the ice! It's a great outside activity for those last summer days.
3. Ziploc Writing Sensory Play!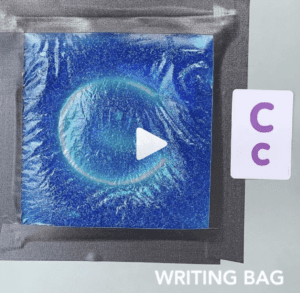 Hair styling gel in a gallon Ziploc with a sprinkle of glitter and food coloring all go a long way with this sensory bag idea from Mother Could! We think it's great for practicing just about anything, whether it's letters, shapes or free draw! It would be even more exciting with a back-lit tracing board for bigger kids.
4. Sticky Wall!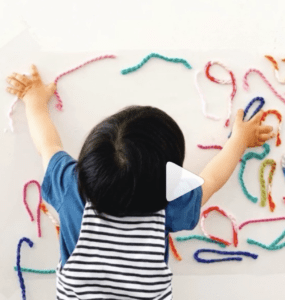 Bust out some contact paper, painter's-tape it to a wall and slap on any small manipulative item that'll stick! We love this colorful yarn idea by hello, Wonderful, and we've also seen it done with silicone cupcake holders, pom pom balls, colored paper over a window for a stained glass window effect or even leaves, flowers and sticks for a nature theme!
5. Alphabet Post-It Wall!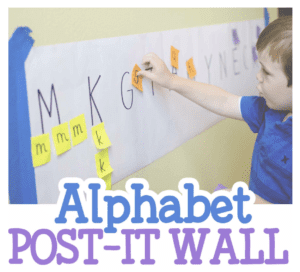 Big thanks to the Busy Toddler for this one! Simply open your office drawer and throw together a fun matching game with letters, numbers, shapes, or animals! Tape some paper on the wall, pen your desired matching objects and then have your tot line up the respective stickies!
6. Wisk Scramble and Sort!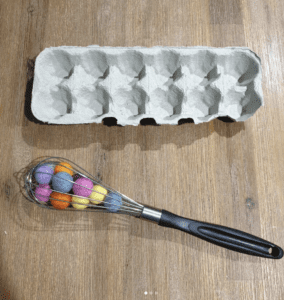 Upcycle egg cartons or ice cube trays and grab a whisk and some pom pom balls for this easy exercise! They can focus on simply placing the balls in the compartments or make it a color sorting game. Whatever the goal, they will love the challenge of using their nimble, little fingers to "rescue" the balls!
7. Matchstick Color Sort!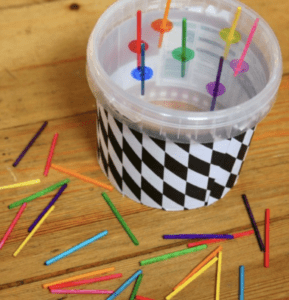 Take any old food container and upcycle it for a fun color sorting game! You can use dull toothpicks and color them yourself or find colored matchsticks like these from Imagination Tree. *Obviously, you'll need to ensure your toddler isn't going through a teething and/or oral phase for this activity.
8. Ping Pong Ball Maze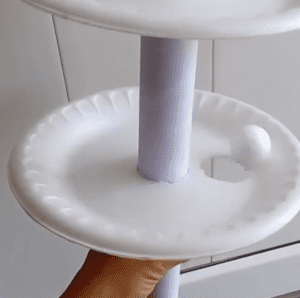 For this genius upcycle activity, all you need is a paper towel roll, a couple paper plates and a ping pong ball! And maybe an X-Acto knife to cut a hole through the plates. Pretty cool, eh? This one's definitely more advanced, as they'll need to balance the ball on the plate. But then again, who really cares if they end up chasing a ball around the room? They can always be redirected back to the activity if the ball drops.
So there you have it! We hope you give one of these fun household Montessori games a try. Developing new skills and fostering a sense of exploration can be done with so many thrifted or upcycled goods right at home.
Kids are often capable of more than we think, and sometimes all they need is a challenge. Don't get discouraged if they aren't getting it right away or if the activity is above their level; simply try it again in a month or two.
So next time boredom strikes (or you need an emergency diversion in a pinch because your toddler misses their nap), do what lots of other moms do: wing it with items you have on hand, and watch their faces light up in wonder and curiosity!