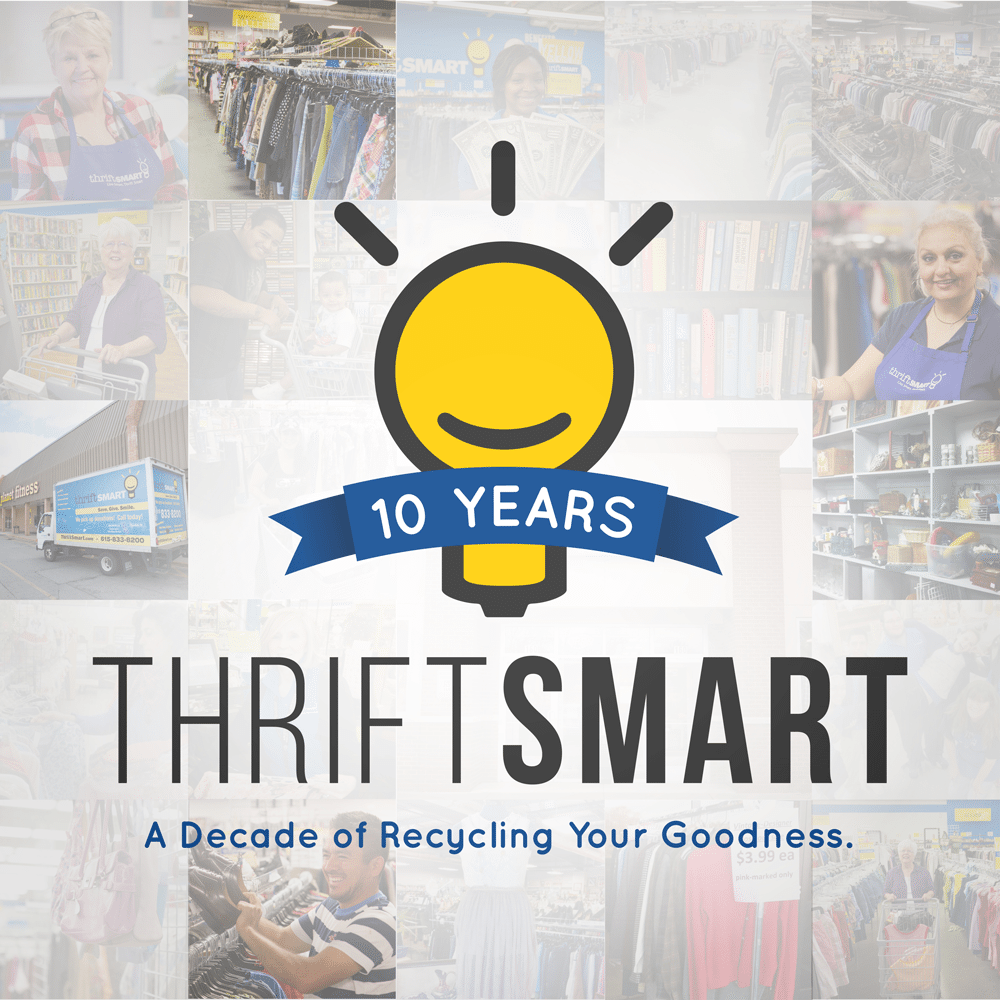 A Decade of Recycling Your Goodness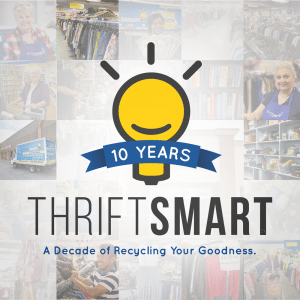 A Decade of Recycling Your Goodness
Thank you, Middle Tennessee. We are thrilled to be celebrating our 10th year at ThriftSmart, and we wouldn't be here without your generosity. It spurs a cycle of goodness that just keeps repeating.
By donating, shopping and volunteering at our stores, you've helped us give nearly $500,000 to our four charity partners, employ hundreds of people, and provide affordable shopping to thousands of families. You've served over 100,000 volunteer hours and donated nearly 1 million pounds of goods. Amazing, isn't it?
Did you donate a sweet pair of jeans to us, or buy a pair at a great price? Through those jeans, you helped a local child see a doctor at Mercy Community Healthcare or get a scholarship for a great education at New Hope Academy. Or maybe you helped take care of an orphan in Africa through African Leadership, or fund a microbusiness through The Belize Project. Your goodness keeps recycling and making more goodness.
Through our GiveSmart partner organizations who collect donations for our stores, we've given over $200,000 in ThriftSmart gift cards back to the community. Our community partners have used those gift cards to supply local schools, clothe refugee families, and furnish apartments for families transitioning out of homelessness. The list could go on. Yet again, more goodness recycled!
Thank you, middle Tennessee. Here's to the next ten years of recycling your goodness and together, making our community and our world a better place.
We hope to see you at our anniversary celebration this Saturday, July 25th. Join us for savings, prizes, cake and more! Doors open at 9am.
50% off storewide
First 50 customers receive a $10 gift card (one per family)
Guess the Bale Weight Contest winner announced
Cake-cutting (11:30am in Franklin & 1:00pm in Nashville)
Prize drawings throughout the day