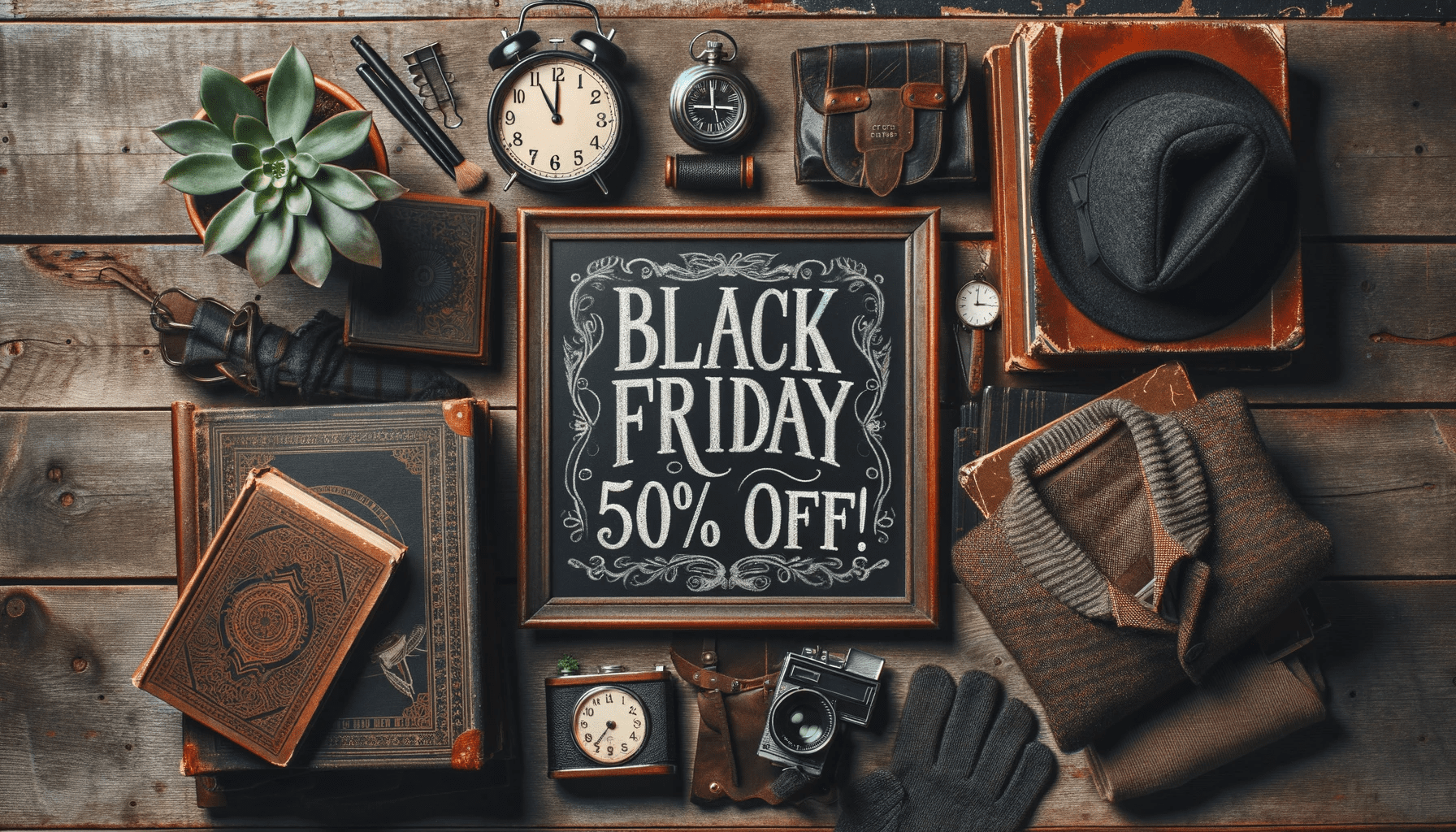 Black Friday 2023 at ThriftSmart: The Ultimate Thrifty Shopping Experience
Posted on
November 1, 2023
Ah, Black Friday. The day we all eagerly await, marking our calendars, preparing our shopping lists, and setting early alarms. But this Black Friday 2023, we at ThriftSmart are offering something even more special. Imagine walking into a store where every item is half off. Yes, you read that right. We're giving our cherished customers a whopping 50% off on everything in the store. And to ensure you get the best picks, we're opening our doors an hour earlier at 8 am. So, why should ThriftSmart be your go-to destination this Black Friday? Let's dive in.
Why ThriftSmart is the Place to Be on Black Friday 2023
50% Off the Entire Store
Black Friday is synonymous with discounts, but at ThriftSmart, we believe in going the extra mile. This year, we're offering an unbeatable 50% off across our entire store. Whether you're on the hunt for vintage clothing, unique home decor, or rare books, we've got you covered. And with half the price slashed off, your wallet will thank you. Don't just take our word for it; explore our diverse product range and see for yourself.
Extended Shopping Hours
We understand the early bird gets the worm. That's why, this Black Friday, we're opening our doors at 8 am, an hour earlier than usual. This gives you a head start to grab those items you've been eyeing for weeks. Plus, with the entire store at half price, the best deals are bound to fly off the shelves. So, set that alarm, lace up your shopping shoes, and join us bright and early.
What Sets ThriftSmart Apart
A Commitment to the Community
At ThriftSmart, we're not just another store. We're a community. Every purchase you make goes beyond the product. It supports our mission, our values, and our commitment to giving back. We take pride in being a store that offers value to our customers, opportunities for our employees, and benefits to local nonprofits. When you shop with us, you're not just getting a great deal; you're making a difference. Curious about our story? Learn more about our mission and how we've been supporting the community since our inception.
A Modern Thrifting Experience
Shopping second-hand doesn't mean compromising on quality or experience. We've transformed thrifting into a modern, enjoyable adventure. Our stores are clean, organized, and brimming with treasures waiting to be discovered. We combine the thrill of thrifting with a shopping experience that rivals mainstream stores. But unlike them, every dollar you spend with us supports a greater cause.
Black Friday 2023 at ThriftSmart is shaping up to be an event you won't want to miss. With massive discounts, extended shopping hours, and the chance to support a fantastic cause, it's a win-win situation. So, mark your calendars, prepare your shopping lists, and get ready for the ultimate thrifty shopping experience. We can't wait to see you there!
Tips for a Successful Black Friday 2023 Shopping at ThriftSmart
Plan Ahead
First and foremost, planning is key. With Black Friday 2023 just around the corner, now is the perfect time to start preparing. Begin by making a list of items you've been eyeing. Whether it's that vintage lamp for your living room or the classic novel for your bookshelf, jot it down. By having a clear idea of what you want, you can navigate our store with ease and efficiency. And remember, with our massive 50% off sale, items are bound to sell out quickly. So, it's always a good idea to have a backup plan. To get a sneak peek of what we offer, browse through our website and start building your wishlist.
Arrive Early
As the saying goes, "The early bird catches the worm." This couldn't be truer for Black Friday 2023 at ThriftSmart. With doors opening at 8 am, you'll have a head start on all the fantastic deals. Plus, arriving early means you'll avoid the midday rush, giving you a more relaxed and enjoyable shopping experience. Trust us; those extra few minutes of sleep are worth sacrificing for the treasures you'll find. So, set multiple alarms, grab a coffee, and join us bright and early.
Stay Updated
In the age of technology, staying updated has never been easier. We at ThriftSmart are always buzzing with excitement, especially as Black Friday 2023 approaches. To ensure you don't miss out on any updates, flash sales, or exclusive offers, sign up for our newsletter. It's the best way to stay in the loop and get firsthand information on all things ThriftSmart. Plus, who doesn't love a good deal delivered straight to their inbox? Sign up now at the bottom of this page and be the first to know about all our upcoming deals and events.
Remember, ThriftSmart is more than just a thrift store. It's a community, a movement, and a commitment to making the world a better place. So, as you gear up for Black Friday 2023, remember that every purchase you make is a step towards a brighter future. We look forward to seeing you soon!
The ThriftSmart Experience Beyond Black Friday 2023
A Year-Round Commitment
While Black Friday 2023 is undoubtedly a highlight, our commitment to providing value, opportunity, and benefit extends throughout the year. At ThriftSmart, every day is a chance to discover something unique, support a worthy cause, and promote sustainable living. Our shelves are constantly updated with new arrivals, ensuring that every visit is a fresh experience. Whether you're a thrifting enthusiast or a first-time visitor, our doors are always open. Dive into our store's offerings and see what treasures await.
Join the ThriftSmart Family
Beyond shopping, there are numerous ways to be a part of the ThriftSmart family. From donating goods to volunteering your time, every contribution makes a difference. Our community thrives on the collective efforts of our staff, volunteers, donors, and shoppers. If you're inspired to give back, consider donating your pre-loved items or volunteering with us. Together, we can make a lasting impact.
Stay Connected
In today's digital age, staying connected has never been easier. Follow us on our social media channels, subscribe to our newsletter, and regularly check our website for the latest updates, events, and promotions. We love sharing stories, highlighting community initiatives, and showcasing the unique items that arrive in our store. So, whether it's a behind-the-scenes look or a special announcement, we've got you covered. Stay in the loop and join our online community.
Black Friday 2023 at ThriftSmart: Conclusion
As Black Friday 2023 approaches, we at ThriftSmart are filled with gratitude and excitement. Gratitude for our incredible community that has supported us over the years, and excitement for the amazing deals and experiences that await. But remember, ThriftSmart is more than just a one-day event. It's a movement, a lifestyle, and a promise to give back. So, as you gear up for the big day, know that you're not just shopping – you're making a difference.
Ready to experience the best of thrifty shopping? We invite you to visit us, explore our vast collection, and be a part of our mission. Whether it's Black Friday 2023 or any other day, ThriftSmart is here to welcome you with open arms. For any inquiries, contact us or drop by our store. Let's make this Black Friday memorable, sustainable, and impactful. See you soon!