December Is Here!
Posted on
December 1, 2015
Happy Holidays from all of us at ThriftSmart! December always brings some special treats for our customers. Check out the calendar for all the details. (Here's the Spanish version.)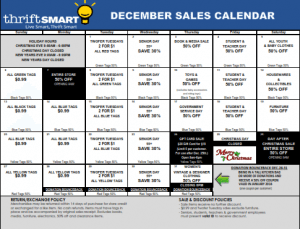 December Highlights
On December 1st, #GivingTuesday,  you get a 30%-off voucher if you bring in a tall kitchen bag or more of donations.
Monday, December 7th – Store-wide 50% off sale.
December 24th – Christmas Eve Gift Card Sale! Buy up to 5 $20 gift cards for $10 each, usable after December 25, 2015.
December 26th – 50% off Day-After-Christmas Sale
December 28th-31st – Donation Bounce-Back! Bring in a tall kitchen bag or more of donations and receive a 50% off coupon valid in January 2016.
Holiday Hours
We'll close early (6pm) on Christmas Eve and New Year's Eve, and we'll be closed all day on Christmas Day and New Year's Day.