Fabulous February Deals
Posted on
January 30, 2016
We are headed into a new month, and it brings some great deals your way. See the calendar below, or click here for the Spanish version.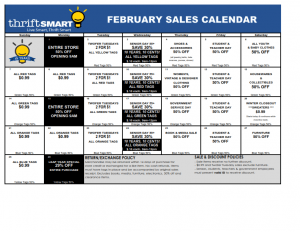 10 Years, 10 Cents Returns!
You may recall we are celebrating our 10th year at ThriftSmart, and this month, our great "10 Years, 10 Cents" anniversary special from July returns. Every Wednesday morning in February, 9am-12pm, you can purchase clothing tagged with the color of the week for 10 cents a piece! You can't beat this deal anywhere in town. Have fun scouring the racks and putting together great outfits on the cheap, and share your finds with us by tagging us on Instagram and using #ThriftSmart!
Super Bowl Sunday Surprise
Be sure to follow us via email, social media (Facebook, Twitter and Instagram and/or our text club (you can join by texting the word "Thrift" to the number 51660). Prior to Super Bowl Sunday we'll be sending out a special treat via our media channels….
Leap Year Special!
February 29th doesn't come around very often, so we're celebrating by giving 29% off to everyone who shops in our store that day. Make note and get in on the Leap Year special!