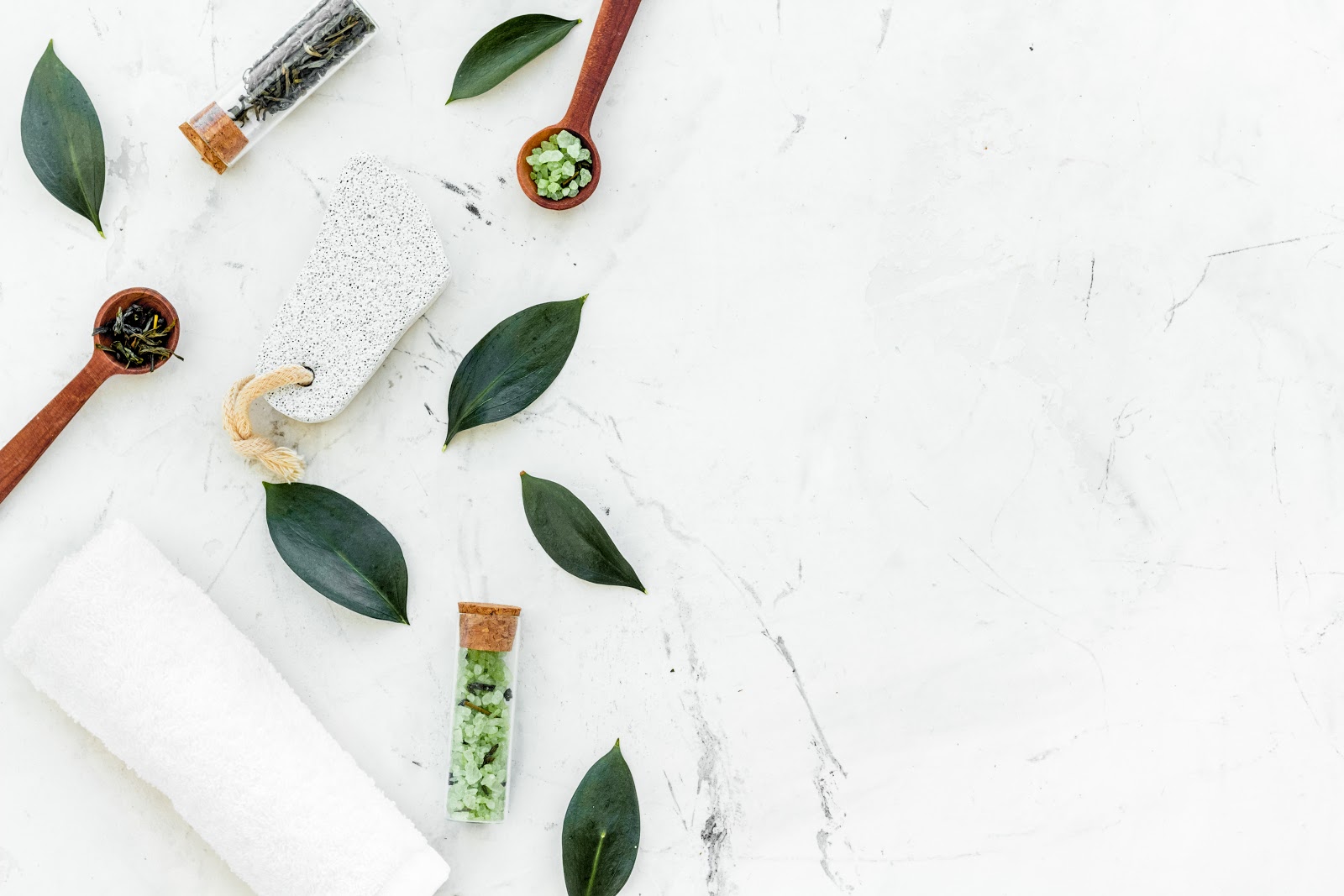 From Bathroom To Spa
Posted on
November 8, 2020
Redecorating your loo on a budget
Just dream with us for a minute: Wouldn't it be amazing to have a spa inside your house? To have a relaxing getaway, a private sanctuary within the confines of your own comfort, to unwind and destress from your day?
Some of the qualities and themes we all long for in a spa experience are nautical, clean, spacious, inspiring, nature, "un-bathroom", relaxation, respite, and exotic transport.
We're here to tell you that with just a few small changes, you can actually transform your home bathroom into a tranquil oasis – with little or no cost at all! Simply follow our easy guide below.
1. A Fresh, Beautiful Start
Most spas have minimal items in plain view with plenty of open space. We harken back to our Tidy Up blog when we say: clear the junk! Sure, your bathroom needs to be a functional space for personal items like toothbrushes, shave gel and makeup, but having things scattered about won't add to the spa aesthetic we're going for here.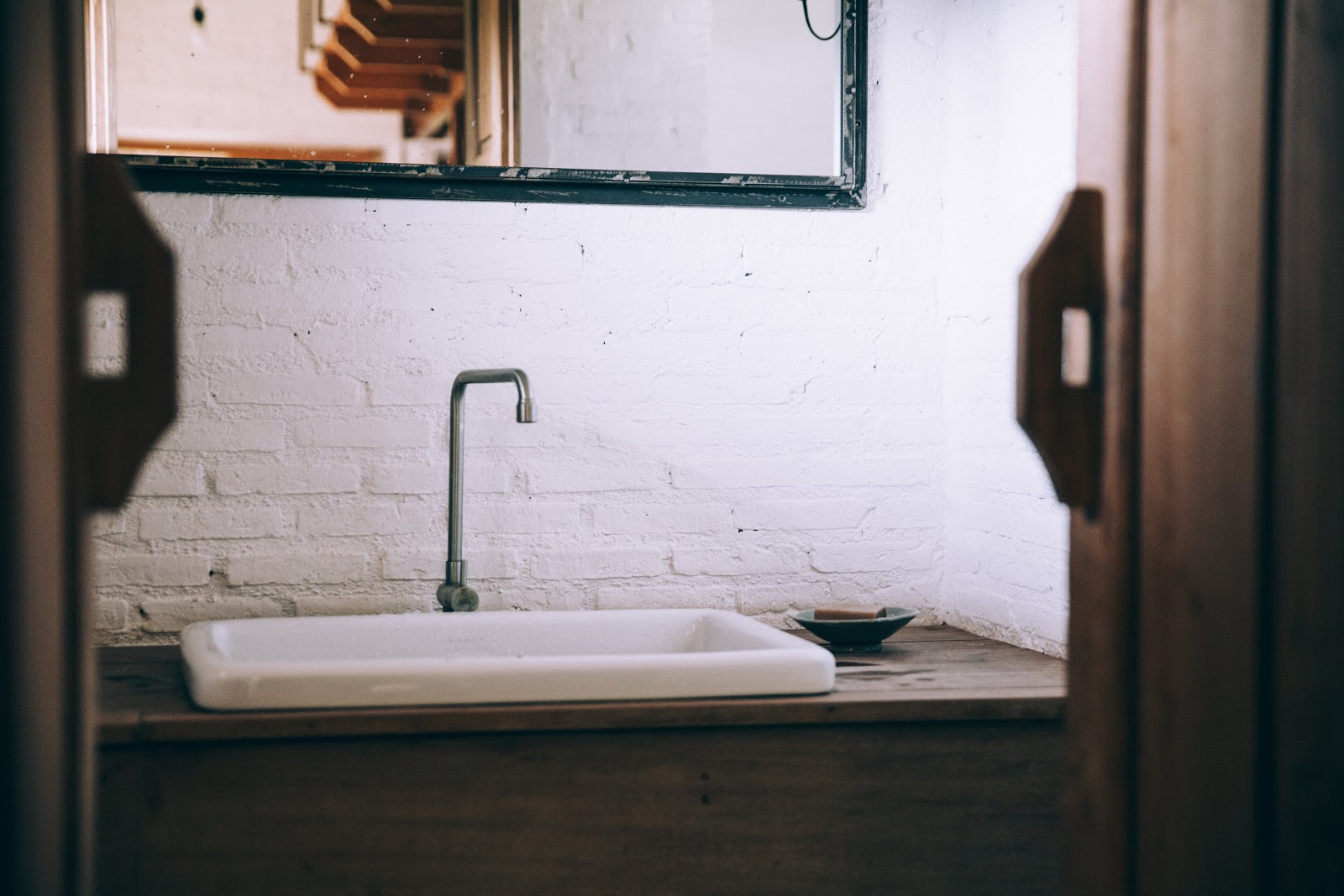 Keep decor down to one to three pieces in a grouping (especially in a small space), and store the rest in beautiful containers like wicker baskets on a shelf or upper cabinet. You'll get used to opening the drawer to get your toothpaste in a matter of days, and the peace of a clean countertop will quickly outweigh the small inconvenience!
Put your tissue box in a marble cover, use a thrifted woven waste basket instead of plastic, and a glass holder for your toothbrush (that is, if you really need it out in the open). Find a thrifted soap dish, using either a small glass plate, a piece of pottery, or a metallic tray that matches your hardware. You'll be amazed at how this first step of decluttering and beautifying will already give you a sense of order and balance! Now that we've achieved our zen state, we can move on.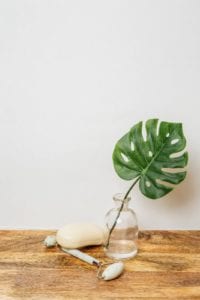 2. A Touch Of Earth
Keep fresh or dried flowers in a glass vase or handmade pottery. Or simplify, using the delicate greenery of eucalyptus, a single dried palm leaf or a faux succulent! Plants instantly conjure feelings of nature and fresh air – something we all could use a little more of these days.
We also recommend sprinkling in wooden or nautical elements, like a bamboo tray over the bathtub for your hot tea and latest read, a wicker waste basket, a wooden stool, an oceanic sponge, a cupboard with glass-panes for linens, or a hanging wooden scrubber.
These earthy accents stimulate a sense of calm, transporting our minds to a serene space, much like that of nature.
3. A Work of Art
Family photos are lovely of course, but we recommend hanging beautiful, inspirational art on the walls. Even framing a lazy scribble or paint strokes that fit the current color scheme will do the trick!
Again less is more, as spas typically leave lots of open space and clean lines, but whether it's a bold, abstract expression or an interesting seascape photo, art is a simple yet often untapped way to both energize and relax any guest that steps into the loo.
4. A Hardware Facelift
For a quick-and-easy update, consider replacing the knobs of the cabinet, the faucets or the light fixture! We always recommend consistency and harmony throughout, so if your current hardware is already chrome, stick with that! The pieces that pack the biggest punch are your light fixtures and sink faucets.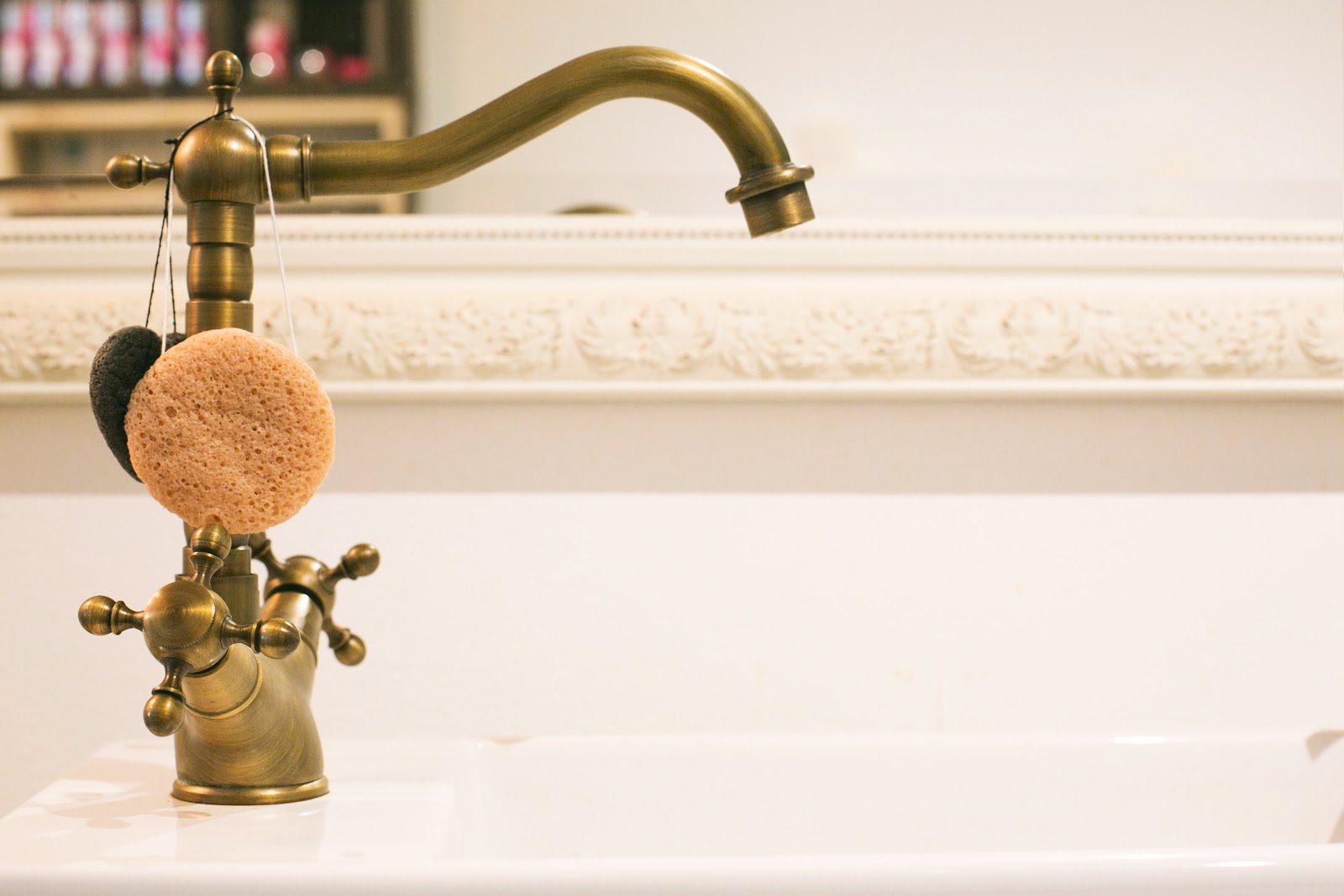 If you're going for a spa vibe, choose something clean, simple and sleek. If you keep a thrifty mindset, this step can actually be a super budget-friendly way to refresh your bathroom!
5. A Candle (Or Three!)
Having a candle in the bathroom is such an affordable way to invite an atmosphere of tranquility. It doesn't even need to be scented! Tea lights in glass jars or trays are just as beautiful as a posh, scented candle from Anthropologie.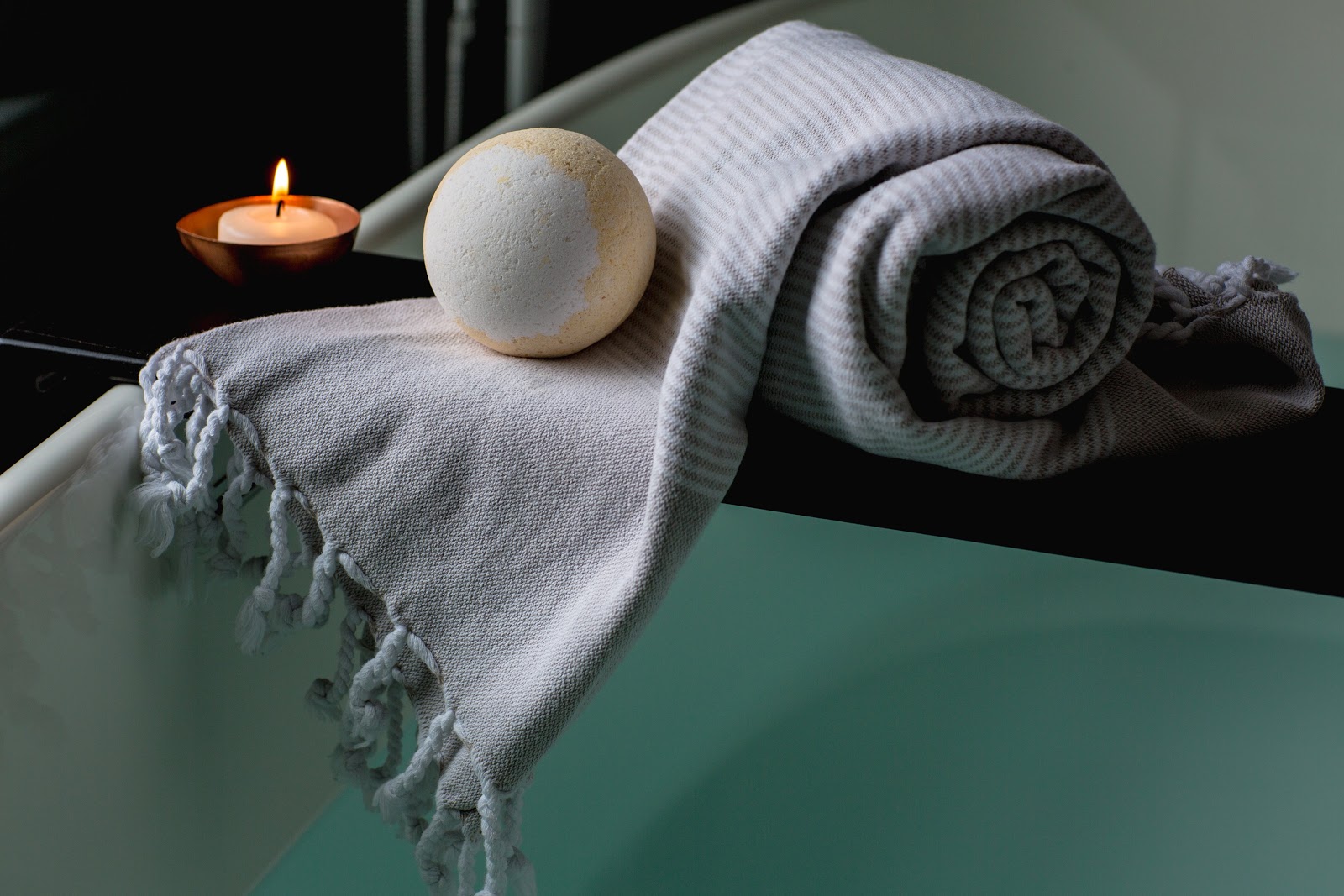 This tip echoes back to our thoughts about incorporating natural elements. Keep it simple with one candle, or group in odd numbers around the tub for a luxurious, luminous soak!
If you're leery of open flames, diffusing essential oils like eucalyptus, orange peel and lavender are wonderful alternatives. Scents have power over our state of mind, so have fun with different options here.
Pro Tip: using a mirror tray under your candle doubles the flame without taking up more real estate! Yes, please.
6. A Spa Experience
Speaking of bathtime, always have a few pampering perks on hand for guests (or – let's be honest – yourself)! Epsom salts, face peels, chocolates, rose petals, serum, tea bags, lotions and bubble bath come to mind and won't break the bank at all. Even displaying some of these items in a little basket in view will remind you to treat yourself when you need or deserve (which is always).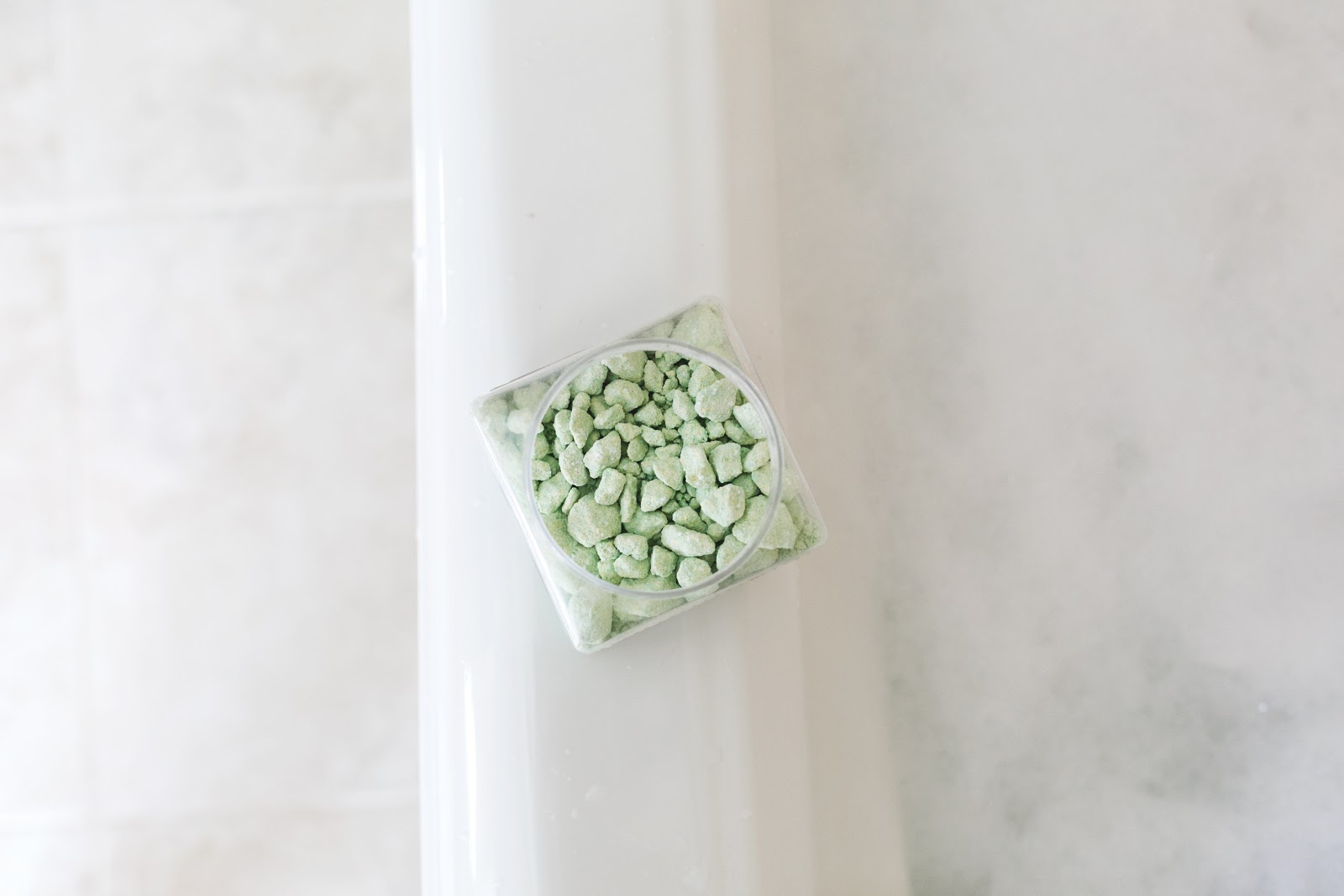 These thrifty tips are sure to upgrade your bathroom to the ultimate spa/getaway/staycation. So without further adieu, have a wonderful spa day! And endless more of them to come.