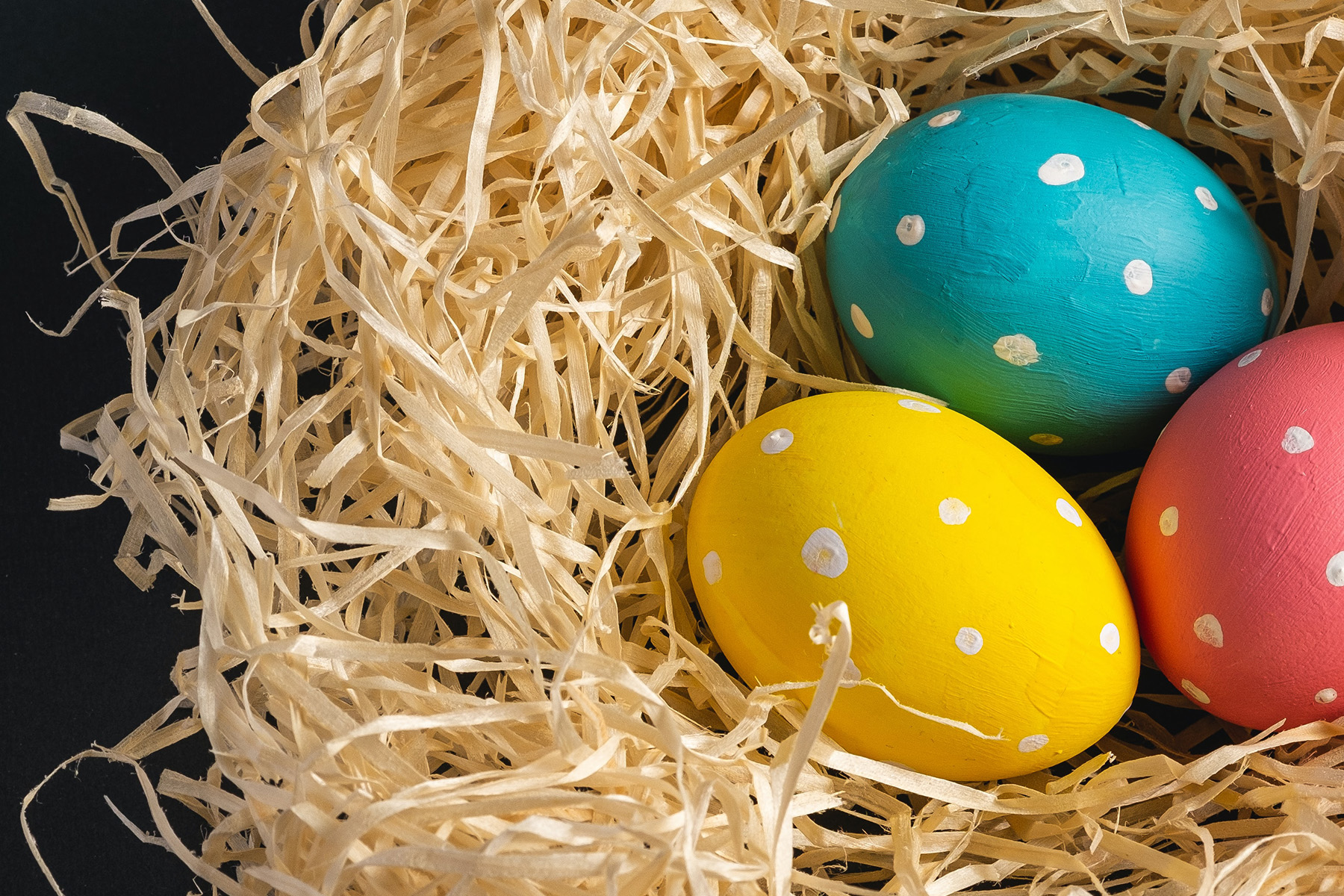 Fun and Thrifty Easter Craft Ideas
Looking for a fun craft this Easter? Check out these ideas for experts, novices, and children!
While it may be a bit underrated compared to Christmas or Halloween, Easter is still a great holiday filled with fun activities, foods, and decorations. After all, what American childhood is complete without a few memories of colorful egg hunts, deviled eggs, and Easter baskets?
Whether you want to celebrate Easter this year for yourself, your kids, or the rest of your family, Easter is a great time to make some fun crafts and decorations. If you're looking for some fun and thrifty Easter craft ideas this year, look no further! We've gathered a dozen of our favorite DIY projects that are perfect for celebrating the holiday. From painted eggs to bunny-shaped banners, there's something here for everyone — so gather up your supplies and get ready to have some fun!
Decorating Eggs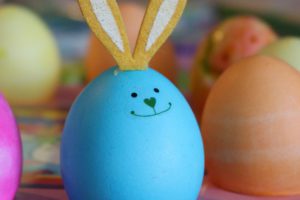 A classic Easter activity, decorating eggs is a great way to get creative and have some fun. You can use real eggs or artificial ones, and there are endless possibilities for designs — you can simply dye hard-boiled eggs with vinegar and food coloring, or go all-out and hand paint them, glue sparkles on them, gold-gild them, or whatever else you can imagine!
Basic Dyed Eggs
The most basic way to decorate eggs is to use store bought dye. This is a great option if you're looking for something quick and easy, or if you're doing it with young kids who might not have the attention span (or steady hands) for more intricate designs.
All you need to do is hard boil your eggs, then place them in a bowl of vinegar-water dyed with food coloring. Let them soak until they reach the desired color, then remove and dry them off. You can also get creative with this method by using multiple colors, dip-dyeing the eggs, or even making tie-dye eggs!
Fancy Eggs
If you want to go above and beyond basic dyed eggs, there are lots of other ways to decorate them. You can hand paint them with acrylic paint, watercolor, or even use stickers and other decorations.
If you're feeling really creative, you can also try making your own decoupage eggs. This is a great way to use up any old scrapbooking supplies or bits of lace or fabric that you might have lying around. All you need is some Mod Podge, a paintbrush, and your chosen decorations. Simply brush a layer of Mod Podge onto the eggshells, then place your decorations in whatever pattern you like. Let them dry completely, then seal them with another coat of Mod Podge for extra protection.
Easter Baskets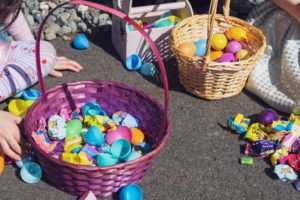 Another quintessential Easter staple, Easter baskets are incredibly diverse and can be done pretty much any way you like — here are some ideas for crafters of all experience levels!
Make Your Own Basket
If you're an experienced crafter and are up for a challenge, consider making your own basket from scratch. This can be a lot of fun, and there are lots of different ways to do it.
You can use natural materials like twigs, vines, or straw, or go for a more traditional basket-weaving technique. There are also plenty of tutorials online for more complicated baskets made from items like cardboard, rope, or even recycled plastic bags! For inspiration, check out the ideas here and here.
Embellish a Pre-made Basket
If you're not up for the challenge of making your own basket, you can always embellish an existing one — if you don't already have one, come on into ThriftSmart to get a good quality one for a low price.
Embellishing a basket is a great option if you want something really special and unique, or if you're on a tight budget. All you need is some imagination and craft supplies — think ribbons, flowers, feathers, lace, or sequins. Just glue, sew, or weave your chosen embellishments onto the basket, and you're good to go!
Make a Paper Basket
If you're looking for an easier option (or if you're short on supplies), you can also make an Easter basket out of paper. This is a great option for kids. All you need is some construction paper, tape, and a stapler. Cut two large circles out of your construction paper, then tape them together at the edges to make a cylinder.
Next, cut strips of paper about an inch wide and staple them around the edge of the top of the cylinder. Once you've gone all the way around, tuck the end of the strips into the first one to secure it, then flip the basket over and fill it with Easter treats!
Decorations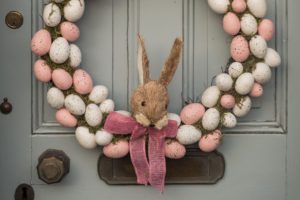 Just because eggs and baskets are the most popular Easter crafts, it doesn't mean they're the only ones! Here are some ideas for DIY decorations too.
Make or Decorate a Wreath
Another great Easter decoration idea is to make a simple wreath out of Easter-themed materials. You can go the classic route and weave together some sticks, leaves, and flowers, or you can use things like fabric, ribbons, or even candy to create a colorful and festive wreath that's perfect for the holiday.
No matter what material you choose to use, making a wreath is fairly straightforward. Simply buy a wreath form at a craft store, and then glue or stick your decorations to it. The type of wreath form will depend on the type of wreath you're making. If you're planning on weaving long, bending materials like ribbon, reeds, or string, use a wire form. If you want to stick or glue on objects like flowers and eggs, use a floral foam one. And if you just want to add decorations onto a classic wreath, you can buy an undecorated stick one.
String Together a Garland
Garlands are a simple but effective way to add festivity to any part of your home on practically any holiday — they could be hung on your fireplace mantel, your wall, or your window, and will never look out of place. So what better way to spruce up your home than to make a fun Easter-themed garland?
One of the best Easter garland ideas is to make a string of colorful eggs. While this would be tricky (and probably disastrous) with real eggs, you could easily do it with plastic eggs. buy some plastic eggs, paint them (if you want), and pull a needle and thin string through the two holes on the top and bottom of the egg. Make sure to tie a knot at each end when you're done.
You can also make a garland from a number of other things — flowers, paper bunnies, or fake chicks — anything you can put a needle through is fair game!
Conclusion
Easter is a great time to get creative, and there are so many fun crafts you can do to celebrate the holiday. Between eggs, baskets, garlands, and more, there's something for everyone at every different skill level.
If you're looking for places to buy craft supplies or starter materials like baskets or wreathes, don't forget to stop at ThriftSmart. Whether you want an old dress to get fabric scraps from, fake flowers, construction paper, or anything else, we have all kinds of things that can help you with your craft projects — the possibilities are endless!