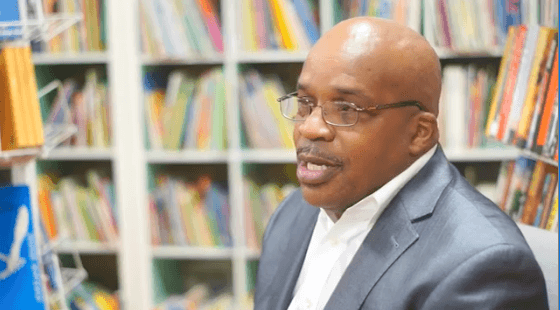 Give Smart With GiveSmart!

Underneath his dapper, businessman exterior, Ron carries with him a life-changing story. Just a few short years ago, he was a veteran-turned-homeless single father, battling cancer and struggling to support his son. But his suffering was completely transformed through his local church and ThriftSmart's donation initiative GiveSmart! What is GiveSmart? Goodness recycled. Plain and simple.

When a church, school, or nonprofit organization donates goods or volunteers hours, they receive ThriftSmart gift cards to distribute to the needy in their own communities. Through GiveSmart, Ron's church members were able to provide him with ThriftSmart gift cards to buy fresh clothes, books and other household items he and his son lacked! From there, he was able to get back on his feet again.

Ron is a direct beneficiary of GiveSmart, along with many others like him. How many more people could be helped if your organization joined GiveSmart?

Here are 5 easy steps to join GiveSmart in changing lives!

1. Sign up!
Fill out the application in the store or on the website here. Once you sign up, be sure to have members register their donations or volunteered hours under the name of your organization to receive credit.

2. Donate!
Set out a donation box, organize a clothing/goods drive, or simply drop off donations individually. Make sure everyone registers their donations under the organization's name. Earn $1 in gift cards for every 10 pounds of goods donated.

3. Volunteer!
Recruit teens, elderly and anyone in between. Make it fun by scheduling a Saturday to go as a group! Remember to register volunteer hours under your organization's name as well. You earn $1 in gift cards for every 1 hour served.

4. Reap the rewards!
Receive your gift cards and contribution benefits quarterly! We even grant GiveSmart members the freedom to purchase gift cards at half-price (prior arrangement necessary), and members can also participate in our Fundraising Program, where they sell ThriftSmart gift cards and earn 50% of the total cash value sold.

5. Give smart!
Distribute gift cards to disadvantaged members of your community. 100% of ThriftSmart's proceeds go to local nonprofits, so in sending patrons, you're supporting uplifting initiatives like New Hope Academy, Mercy Community Healthcare, The Belize Project, and African Leadership!
With 130,000 homeless and needy in Nashville, GiveSmart is a way to make a real impact in the lives of people like Ron right in Music City's backyard!

Since we began this program, we've been able to award nearly $300,000 in gift cards to organizations all around the Nashville area. Join the many other local nonprofits, schools and churches partnering with us through the GiveSmart program, and help us recycle more goodness!