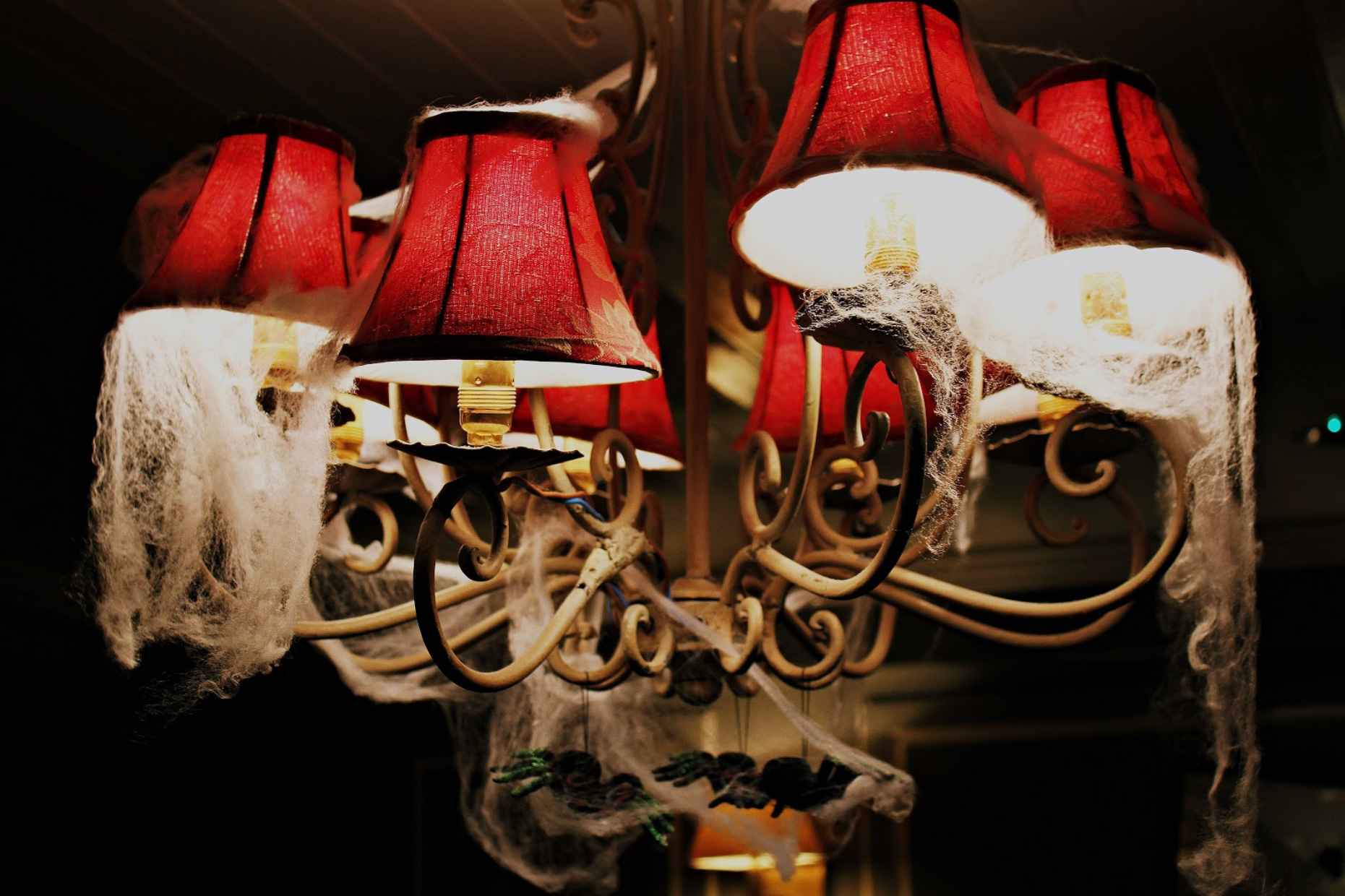 How To Make Your Own Haunted House Party
Posted on
October 14, 2019
When it comes to hosting the perfect haunted house party, you want to strike the delicate balance of making your friends feel both sufficiently tricked AND treated. Like a fine witch's brew, it's a carefully crafted blend that has been premeditated with a spritz of spooky, a dash of daunting and a touch of tasty.
There are many ideas that can take your hair-raising residence to the next level, but tragically they often go overlooked. We've rounded up a few of our favorite fearsome essentials to take your home from enjoyable to formidable, so now you can throw the best haunted house party ever!
Spooky Music And Sound Effects
There are so many playlists out there with songs and sound effects that will make folks feel frightened the moment they set foot on your spine-tingling doorstep. Bonus points for audio in each room of the house to keep the spooky vibe alive!
Straight-up organ instrumentals on loop, pop songs that hail Halloween-esque phrases, or old sound effects from the 60's all do the trick quite wickedly. Music provides an ambience that visuals can't quite achieve, and if they're both done right, the combination is deadly. We dig this sample Halloween party playlist.
Make A Ghostly Welcome
Up your stoop game, and greet guests with the creepiest first impression ever. Have a witched manikin holding a welcome sign. Wrap the front door in danger tape. Set up a colored smoke machine near (or inside) your jack-o-lanterns so that as guests walk up, the tone is set right from the beginning.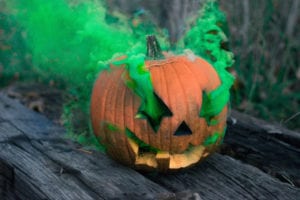 We also like the idea of lining up the driveway with these upcycled milk-jug-turned-ghosts by Fandom! There are so many devilishly clever ideas that will send chills up the spines of your friends before they even enter the premises – and when they do enter, they'll wish they never did. (Dun dun dun!)
Deck The Halls With Bows Of Cobwebs
Just like the "treat" part in "trick-or-treat," you can never have too many cobwebs! Don't think. Just web. A little goes a long way here, so be sure and stretch them out as much as physically possible! Drape them across ceilings and doorways. Weave them around tables, chairs, and chandeliers. Cover thrifted candlesticks, broken picture frames, and any old knick knacks lying around.
Creepy Critters
Of course, the webs are never complete without the critters who spun them to begin with! Pretend they're confetti, and sprinkle your chateau with all the creepy crawly things! Make sure your webbed drapery is meticulously threaded with plastic or furry spiders, roaches, and flies. We particularly like this creative, bug-infested bathroom idea!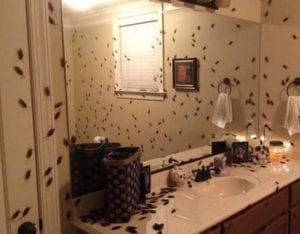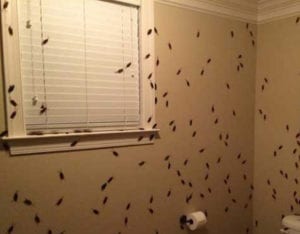 Have them crawling out of an air vent or set up a trail of ants on the food table from plate to plate. Spike the punch with some gummy worms. Or create dishes that involve insect themes.
Halloween-themed Food
Speaking of themed dishes… The top priority at any party is to have delicious food and drinks, but at a haunted house party, themed delicacies are the best kind! It's a lot easier than you think. Whip up some mummified pigs in a blanket. Dip chips in a spider web seven layered dip. You can even make an easy table cloth ghost to add to the dine-if-you-dare experience.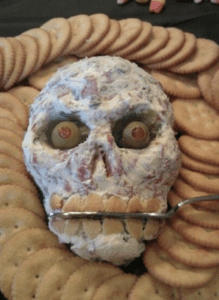 Signage for your dishes and drinks will give your guests a chuckle as they sample all the goodies, too! Stage your guacamole as "vomit," and have fun coming up with other clever names for all bites and beverages. Some other food for thought? Red fruit punch can be dubbed "victim's blood." Chicken fingers are "mummy fingers." Cheese dip can be otherwise known as "zombie guts."
Dim Lighting Of An Assorted Variety
Lighting step one: dim or turn off all lights (barring safety hazards, of course)! Step two: add smaller, colored lights. For spookiest results, use little twinkling pops of red, green, and purple. Stringed lights are killer, but so are colored light bulbs in cobweb-covered lamps! Maybe you even have a theme for each room, and the lighting changes to fit each theme, such as a green-lit graveyard scene, a blood-red murder mystery, or a faintly purple mummy tomb.
Add a bit more fright with a strobe light! Or perhaps a little pizazz with a disco ball for a "haunted 70's" theme. Moving spotlights hidden in bushes do the trick, and thrifted projectors with old movies playing create a feeling of disturbia. The lighting options are endless! No matter how you choose to decorate, remember that overhead lighting is prohibited. This house is haunted. Here are some other light ideas by Fatherly.
Dead Flowers
This one's super easy, but requires an amount of forethought. Go to the store two to three weeks prior, and buy some cheap flowers. Red roses are ideal, but sometimes pricey, so we're not too picky. Hang them upside-down until the main event, and then set out vases all over the house to showcase your beautiful and very dead flowers.
You could even dye the water black for an added touch of death! In a twisted way, they make for a great centerpiece. Old, dried flowers symbolize the passage of time and subconsciously add to the mystery of it all…perhaps a ghost left them for his widowed wife many years ago.
Black Spray Paint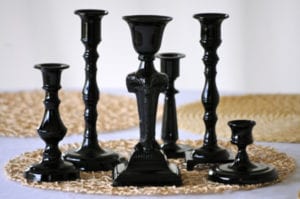 Oh, the wonders of one can of black spray paint! Pick up some old, used picture frames, douse them in a coat of black, and voila! Other items that also look good in black include lamps, candlesticks, vases and even faux house plants. The sky's the limit here. Depending on how dedicated you are, thrifted doilies and lace tablecloths a la grandma are also easy to spray paint.
Wrap Those Walls
We've seen a variety of creepy wall trappings, from red-dyed saran wrap to mummified toilet paper to "DANGER" and "KEEP OUT" banners. You could even use Halloween wrapping paper (yes, that's a thing) to wrap a door here and there. Wrapping walls adds an otherworldly effect to disguise your otherwise well-decorated, unhaunted house. Don't miss out on a simple way to add subtle hints of solemn to your alarming abode!
If you're not into wrapping your entire wall, consider buying some old frames and printing old paintings or drawings! Swap out your daytime art with thrifted, old portraits. The stranger, the better.
We hope these recommendations gave you some inspiration this Halloween. Please share other haunted house ideas with us below! And as always, visit our store for all your thrifted, spooky essentials. From all of us to all of you, happy (haunted) Halloween!