Mac Kelton – Strobel Award Nominee & Volunteer of the Year 2013
Mac Kelton is a Thriftsmart board member and director of The Belize Project, one of Thriftsmart's sponsored charities. He has always promoted Thriftsmart since its beginnings in 2005 but this past year he saw real opportunity to make a difference in the operations, helping improve the revenue position, recruiting volunteers, and engaging the local community.
Realizing the great need for additional volunteers to help the organization reach its potential, Mac intentionally sought out opportunities. He implemented Jobs for Life (JFL) which is a national program designed to engage the unemployed in not simply finding a job, but discovering and pursuing their life's calling. In addition to the two hours of classroom work in the 16 session JFL program, participants were given real world training in production work at the store so there would be experience to back up the classroom training that was provided.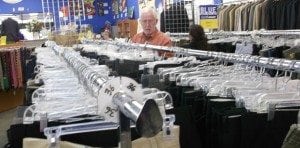 Mac enlisted members from Christ Presbyterian Church where he attends to be teachers, mentors, helpers and even meal providers for the JFL participants. One class was made up entirely of immigrants, new to the area and needing job and language skills. Despite the language barriers, Mac adjusted the curriculum to assist with language improvement and assisted in starting a sewing circle along with an instructor Rita Atkins. Now Rita has established ongoing sewing classes training primarily immigrants to sew, and upon their graduation gives them a sewing machine of their own so they have the skills and tools to make a living.
Mac Kelton is a true leader as both a volunteer board member and volunteer for Thriftsmart, putting in over 500 volunteer hours this year alone and over 2000 hours since Thriftsmart's early days. It is unusual for a non-profit board member to spend this amount of time assisting in company operations and Mac is a great example for board members of non-profits in Nashville, proving they can make a difference if they invest their time. He has helped change our store operations, culture and community outreach all in the name of reaching and helping people in the South Nashville/Nolensville Road area.