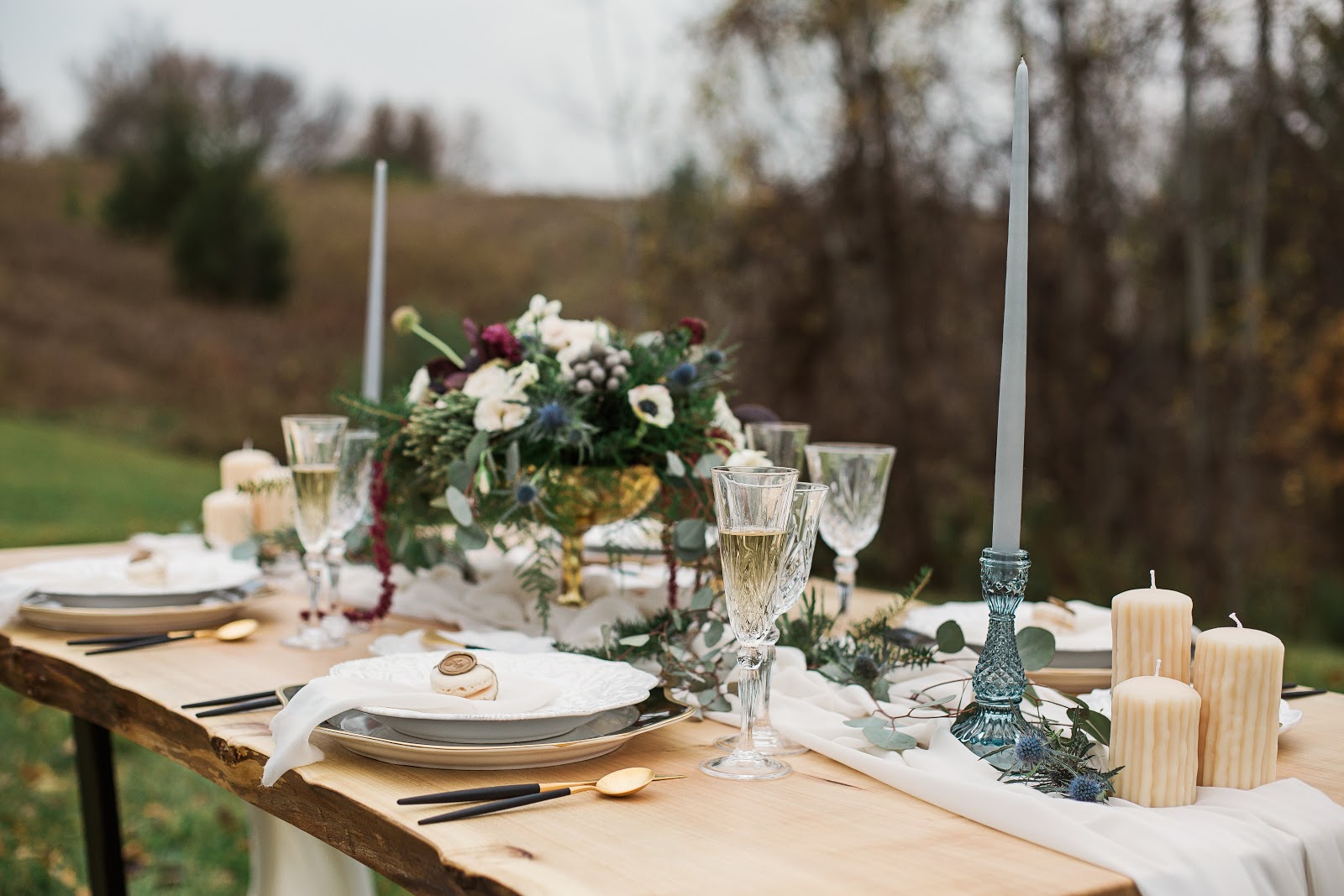 Shake Up This Year's Christmas Dinner!
Posted on
December 16, 2020
Thrifted Tablescapes, A 5-Course Meal With The Best Curated Recipes, And Memorable Moments That Last
It's been a wild year, so why not keep in theme and spice things up at this year's Christmas dinner? In this article, we curate your dinner with unique and tasty finds in holiday recipes, share how to create the perfect tablescape (with thrifted goods, mind you), and give tips for the most memorable, JOYful Christmas dinner – whether virtual or face-to-face.
Let's start with first things first… the ambiance.
THRIFTED TABLESCAPE DECOR
"When it comes to table decor, there are a couple of traditional rules of thumb. For a 'centerpiece' approach, place a higher item in the middle of your table and surround it with smaller lower items, like the solar system." – Laird Borrelli-Persson, Vogue Magazine
Set the table with a clean (or lightly wrinkled!) thrifted linen tablecloth in the color of your choice. When picking your palette for the evening, some may prefer a neutral base of white or taupe, others might opt for boldness of maroon or plum. This (like any piece of decor) can either be the feature or the invisible backdrop. But once decided upon, we suggest picking only one item to be the main feature, whether the centerpiece, the gilded tablecloth or the pop of design on the china!
Speaking of china, who says fancy has to be pricey? There are so many sets you can find thrifted! Other great thrifted ideas are candlesticks (grouped in odd numbers), napkins, placemats, table runners, chargers, serving plates and bowls, crystal, wine glasses and beautiful real silver! No pressure to be matchy-matchy here, so long as there's a hefty dose of harmony throughout your textures and colors.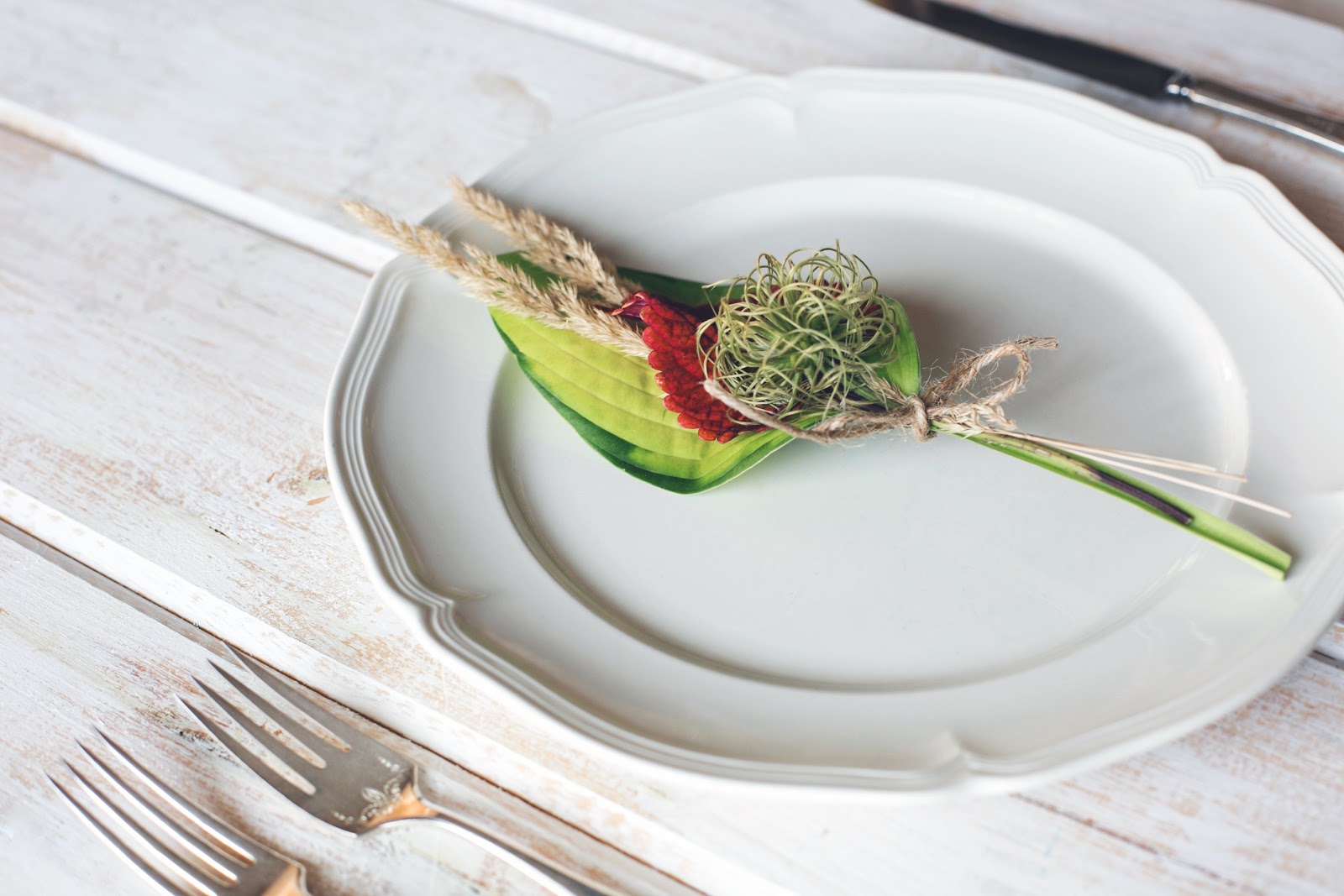 Now that your table is set, forage for some greenery! Eucalyptus, pine, cedar, bay leaves, magnolia leaves or a blend of all are stunning options! We love interspersing real and faux leaves. Weave your own table runner of garland or simply place stems in vases. Here are a few images for inspo!
Sprinkle in pinecones, DIY golden, dried oranges and/or cranberries for a bit of color if you like, or leave things evergreen, white and neutral – plain and simple.
Lastly, scatter and light those tea lights, scented luminaries or (our pick) homemade beeswax candles like these! (Psst! You can find a DIY beeswax candle kit on Amazon).
THE MEAL
All good meals begin and end with a cocktail. Break out the bubbly with a classic champagne, or try one of these Christmas punches from Country Living (we particularly like the sparkling pear and orange champagne recipe)! Pro Tip: Having a beautiful charcuterie of fruits and cheeses is a good idea during this "cocktail hour."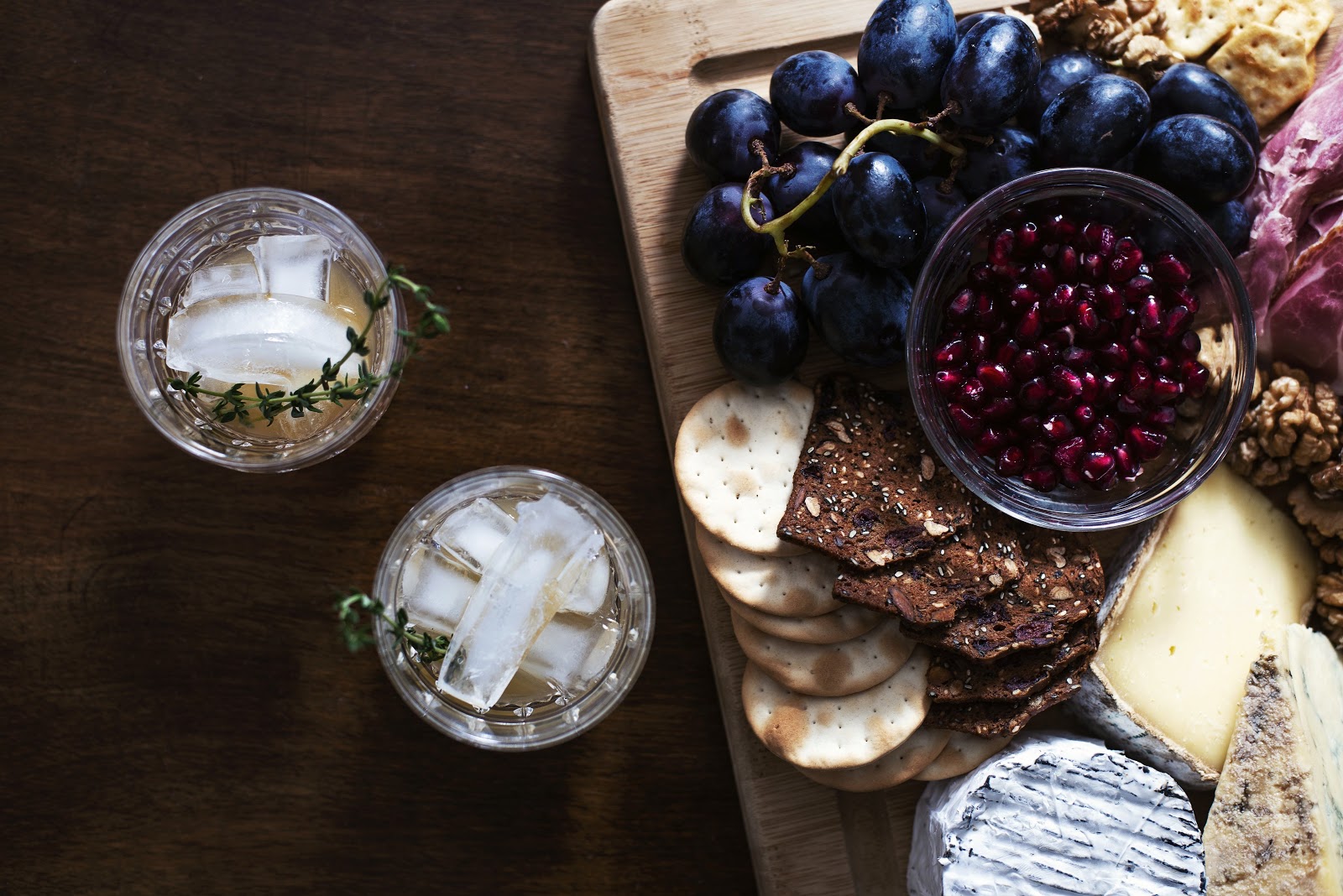 When it's time, kick things off with a bottle of red wine, warm crusty bread from the oven, and Joanna Gaines' roasted elephant garlic. No need for the dinner bell, the savory aroma of this first course goodness will undoubtedly lure your guests to the table. You could also serve this with roasted veggies as people gather 'round to take their place.
As folks settle in, for the second course we'll offer a crispy, flaky homemade green bean casserole from the wonderful chefs at Food52 (sidenote: if you're not yet following them on Insta, you're not doing it right). We know this is traditionally a Thanksgiving recipe for some, but Christmas wouldn't be Christmas without comfort food, and this recipe nixes the cream of mushroom soup! So emphasis on comfort without the heaviness.
The third course finds us in a cozy French cottage enjoying a small plate of red wine braised short rib pasta by the lovely Tiegan Gerard at Half-Baked Harvest. This young chef is making waves online right now, and we can't get enough!
For the fourth course, how could we not do a combo of Food52's porcini and rosemary custard beef tenderloin paired with Half-Baked Harvest's crispy cheese potato stacks! Do we have your mouth watering yet?
The fifth and final course is a spin on a classic – dulce de leche apple pie dessert by Joanna Gaines of Magnolia, paired with the fragrant crockpot mulled cider by Food52. But as an added bonus, we'll throw in some late night treats for Santa: assorted Christmas cookies and/or dark chocolate pretzel bark by Mel's Kitchen Cafe to go with your Vogue-inspired eggnog!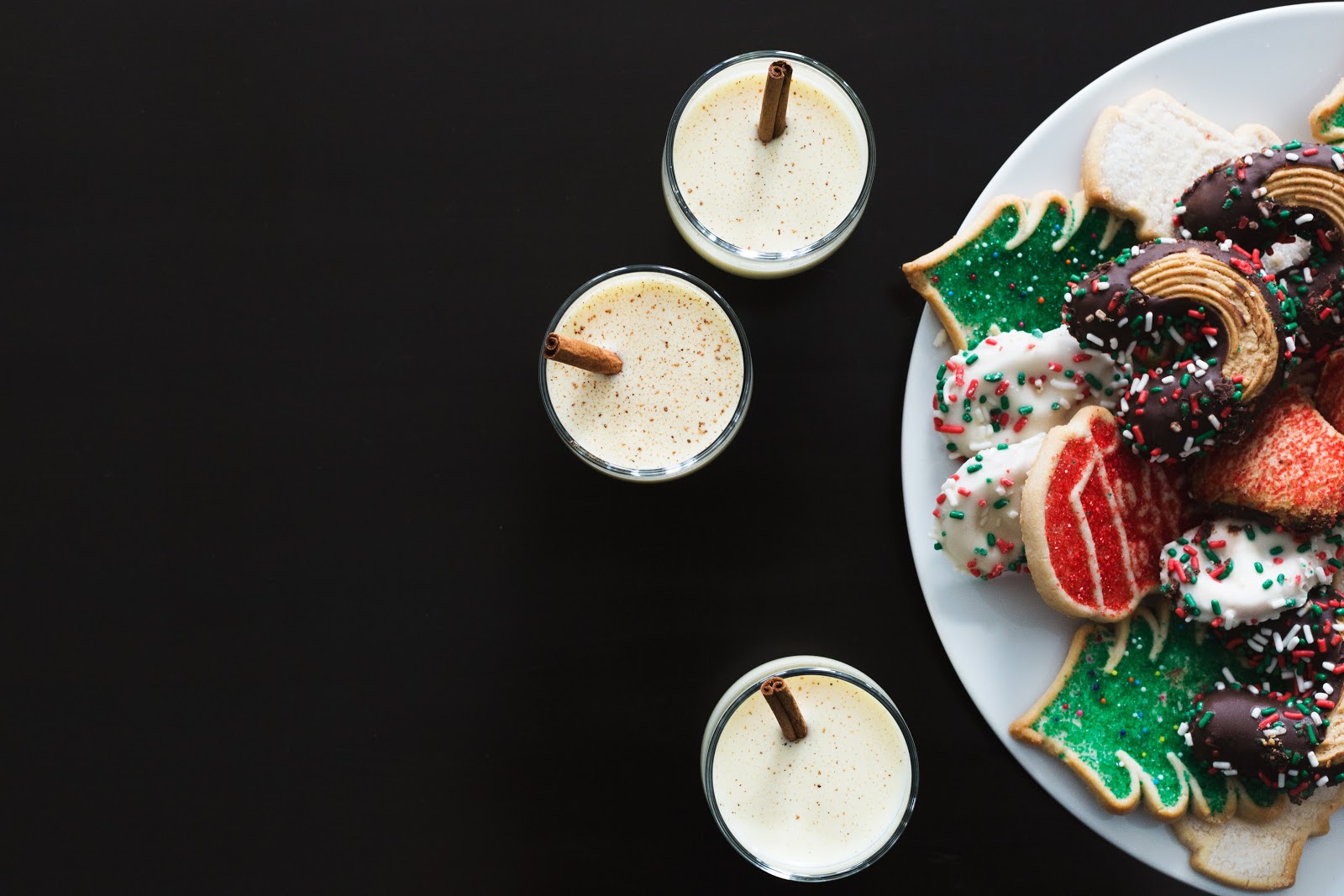 If you're anything like us, your taste buds just did a tiny dance. You're welcome. Bon appetit!
MAKING MEMORIES
We know some folks may have a little discomfort among family members right now, given…you know 2020, pandemic, the election, etc. Lighten the mood, and keep topics joyful with these ideas!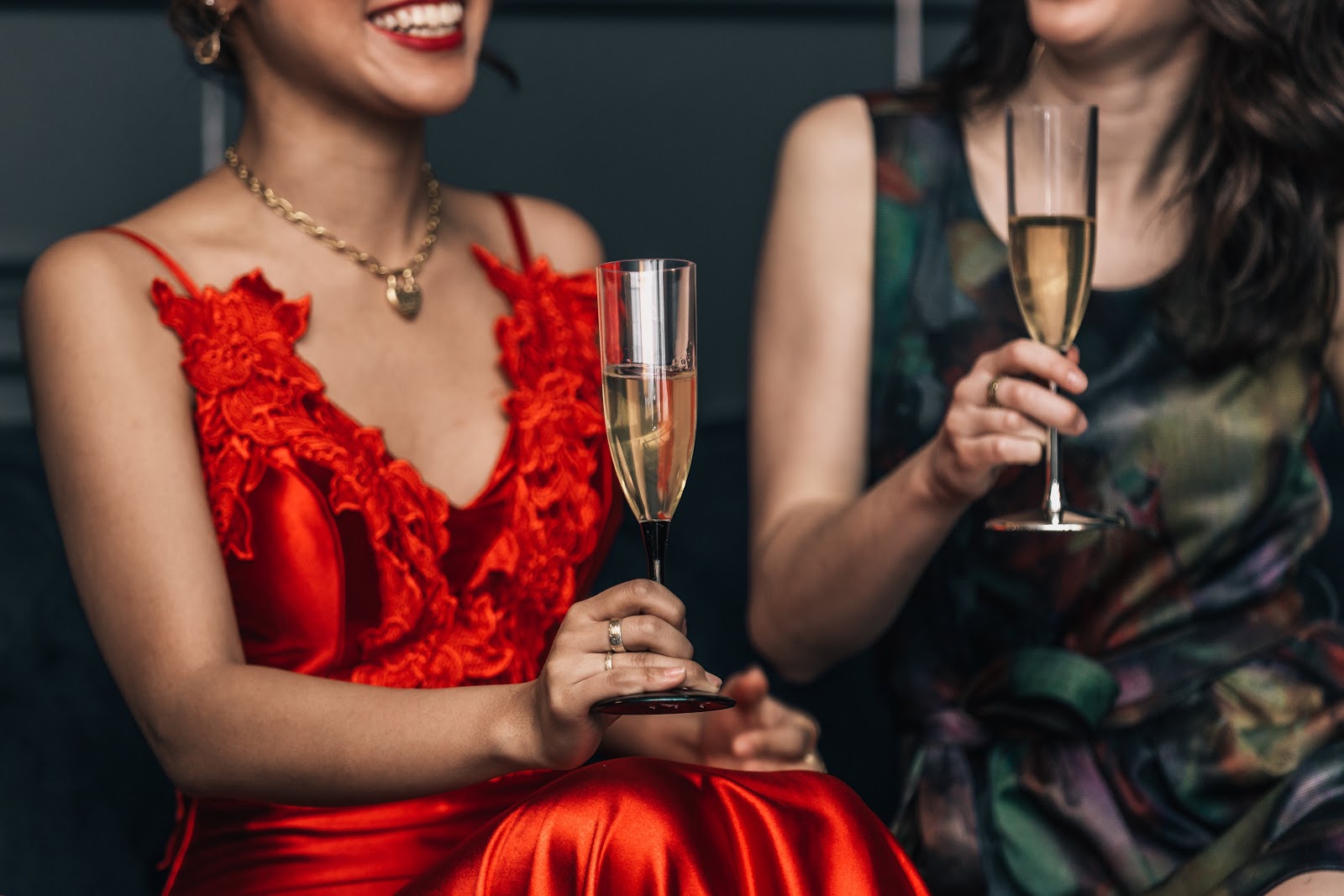 Family Trivia: Does your family share inside jokes? Take trips down memory lane? Enjoy sharing stories of childhood and extended relatives? We suggest dabbling in a little game of family trivia! Have each submit a question or two on pieces of paper that quizzes the group's knowledge of family history! At the end, the one with the most points gets a prize! Consider holding onto the cards and adding to the game each year.
Blessing Cup: Another great thought is to introduce a topic (or two) of good conversation to share. Whether you have place cards assigned with different suggestions, a jar of questions to pick from, or procure a "blessing cup" of sorts and toast around the table within a meaningful topic of choice! Some examples of topics are:
"Most memorable moments of 2020"
"Toughest moments this year and how you overcame them"
"What's bringing you joy this holiday season?"
"What are your goals for 2021?"
"How have you grown as a person in 2020?"
"What lessons did you learn this year?"
"Name your favorite gift(s) given and received this Christmas"
"What is your favorite childhood Christmas memory?"
This idea is one that is sure to bring both laughter and perhaps even a few tears to your night, while also inspiring meaningful discussion and providing a platform for positive words that wouldn't otherwise be exchanged. What better time than now, at the close of a year, to make treasured memories with the ones you love the most?
All in all, we hope these tips add a little more beauty, a little more deliciousness and a little more JOY to your Christmas dinner this year! Let us know how things turn out by commenting below.
And as always, to learn more about the mission of ThriftSmart, visit thriftsmart.com!