We're Celebrating 10 Years!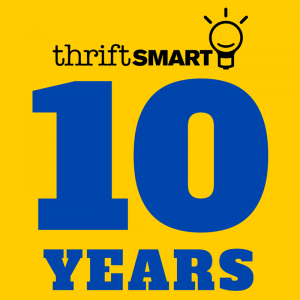 FOR IMMEDIATE RELEASE
July 1, 2015
ThriftSmart Celebrates 10 Years
NASHVILLE, TENN. – ThriftSmart, a nonprofit social enterprise with two area thrift stores, kicks off their 10th anniversary celebration in July. Throughout the month, ThriftSmart stores are offering special sales on Wednesdays and Saturdays, culminating with a store-wide 50% off sale with giveaways on Saturday, July 25th.
Special promotions and sales in July include the following:
10 cent clothing on Wednesdays
50% off store-wide on July 4th
Surprise sales from 10am to noon on Saturdays July 11th and 18th
Guess the bale weight contest July 1 – 24th, winner of $100 gift card announced July 25th
A second 50% off store-wide sale on Saturday, July 25th
Also on July 25th, the first 50 customers in each store will receive $10 ThriftSmart gift cards and throughout the day, customers will have the opportunity to win door prizes.
ThriftSmart gives 100% of their profits to benefit four locally-based charities that are impacting lives both locally and globally – Mercy Community Healthcare, African Leadership, New Hope Academy and The Belize Project. ThriftSmart's Nashville store also hosts ESL and sewing classes for refugees and immigrants.
"We couldn't have provided affordable shopping for thousands of families and given nearly $500,000 to our charity partners over the past 10 years without the support and generosity of a community who shops, volunteers and donates goods at our stores," says co-founder and executive director Dick Gygi. "At its heart, ThriftSmart is about community."
Shoppers can take advantage of anniversary savings at both ThriftSmart stores. Locations and store hours are as follows:
4890 Nolensville Pike
Nashville, TN 37211
9am-9pm Monday – Saturday, 12-6pm Sunday
454 Downs Boulevard
Franklin, TN 37064
9am-8pm Monday – Saturday, 12pm-6pm Sunday
For more information, visit www.ThriftSmart.com.
###