Moving To Nashville Guide
Welcome to Nashville, everyone! Nashville has been experiencing a lot of growth lately. It has been averaging approximately 100 new people per day. That may not be that much compared to larger cities like New York or Los Angeles, but for a city that has always had that "biggest small town" vibe, the new construction, new faces, and new friends have been a big change. We're genuinely so happy that you've decided to make our community your new home that we can't help but to do the most Southern thing possible: roll out a big welcome, y'all!
This guide is meant to be a reference, which means that even though you can read it straight through, you might prefer to bookmark it and use the sections that are most applicable to you. For example, we looked at a statistical analysis of where everyone was coming from. Then we wrote about some of the differences you can expect to find when you get to Nashville. We've broken it down into different areas so if you are from the midwest rather than California, you might not care about the differences in humidity and green landscape. Or maybe you might get a little bit of a chuckle from people who are amazed that a $400,000 house is so cheap.
What To Expect When You Move From…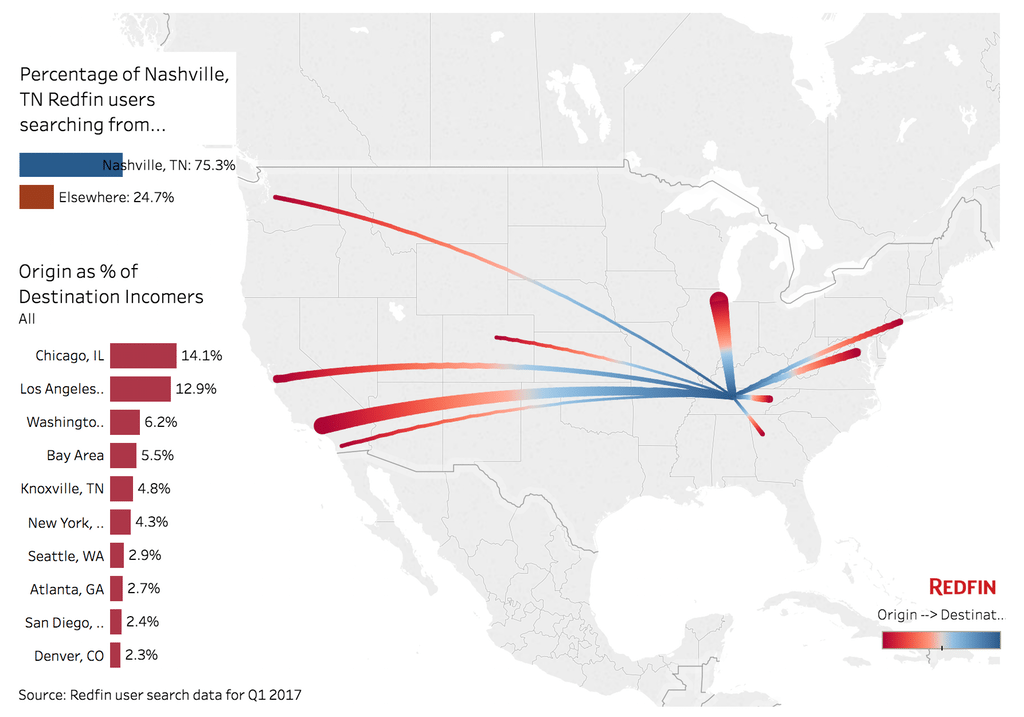 For the most up to date market info, Redfin asked us to share this link to the Nashville Housing Market guide:
The Midwest
The single biggest origin point for our new neighbors is Chicago. Chicagoans will find the fashion and the heat a little different from what they are used to, but the winters will be a pleasant change. Nashville still gets some snow, but compared to the Midwest it hardly counts, and the local reaction when it does snow (grocery store raids, school closures, accidents on the road) will no doubt be a source of amusement. Compared to much of the Great Lakes area, Nashville is much less overcast.
Chicago has good BBQ, but Nashville has it beat hands down. You might be able to get away with calling your soft drinks "pop" without getting funny looks, but you are much more likely to hear "soda" or even just "coke" used in generic reference to all soft drinks. For the midwesterners actually from Chicago and not just Michigan or Ohio, you're going to be pretty disappointed in public transportation but generally relieved to see that traffic isn't that bad. For everyone else from the midwest, traffic is terrible. You may want to consider an audiobook subscription. You're going to love the music, but you probably already knew that.
Despite the relative newness of the Predators NHL franchise, Nashville is DEFINITELY a hockey town now, so expect a few dissenting opinions when wearing your Blackhawks jersey. There are few baseball affiliations, so Cubs, White Sox, Reds, and Indians fans can all rest easy. The Titans are very popular, but most Midwestern teams only bring out a "bless your heart" in folks more than real rivalry. Sports aside, Nashville is probably on par with the Midwest when it comes to friendliness. You may find more genteel politeness here, but in general, midwesterners are actually pretty high up on America's list of friendliest regions already.
What You'll Miss: Cheaper housing, public transportation, pleasant summers
What You'll Love: Great food, lower crime, mild winters
California
While Californians aren't actually the biggest group of transplants to Nashville, it may seem like it because they tend to be the most different culturally. For one thing, Californians will need a bit of translation to understand our Southernisms. BBQ doesn't simply mean something that was cooked on a grill here. It is a broad but strictly-defined genre of cooking. In fact, in Nashville you can find multiple styles of BBQ that are nothing like each other. But what you will have a hard time finding is carne asada or other California style Mexican food. Fish tacos are few and far between and the Mexican restaurants that are here are much more "Tex-Mex" style than what you're used to. Unless you are hanging out along the Nolensville Road corridor. But really, BBQ is the main thing here and it is on every corner.
Californians will find the weather too hot, too cold, and too humid. And it rains here. Every month, if you can believe that! Sure California just had a very wet year, but a wet year in California is a drought in Tennessee. Nashville did have some forest fires last year, though, so that should make you feel more at home. Because Nashville gets more rain, it is significantly greener. There may not be any beaches or mountains (though mountains and lakes are nearby), but the green is beautiful and Nashville has loads of great parks with lots of great hiking and biking paths that they call "greenways."
You'll be happy to live someplace with no state income tax, but then bummed to find you're in the one place with a higher sales tax. Traffic jams in Nashville are "cute" and in general, you'll find your commute much more pleasant. You will miss California's abundance of classic and rare cars in great shape, since trucks and SUVs are the preferred people-movers here.
Finally, for Californians, living in a place with all four seasons is going to be a big adjustment. Some of you will have to buy an ice scraper for your car. The humidity will be overwhelming for many of you and the summers will keep you indoors more than you're used to. But the summer nights are pleasant and for many of you, you will get your first introduction to fireflies (aka lightening bugs).
What You'll Miss: The beach, In-N-Out, being able to plan outdoor activities months in advance.
What You'll Love: Lower cost of loving, everything is green, more space, better public schools, just as much outdoor activity
Colorado
Colorado is very similar to Nashville as far as growth demographics. Denver and Nashville are both growing rapidly and home to many transplants. They are both experiencing rapid growth, as confirmed by similarly crane-ridden skylines, and they are both experiencing an influx of Californians who are originally from somewhere else and who are starting a family.
Every state has a few other states that it admires. For Nashvillians in Tennessee, Colorado is one of those states. Nashville is impressed by the outdoorsiness of Colorado and Denver's ability to be a large city that is still known for its nature as much as its community. And while Colorado may not share Tennessee's BBQ saturation, these two great states are united in their love for craft beers.
While Nashville doesn't have any real mountains, we do have hills, lakes, and trails. But don't expect to wear long sleeves while hiking anytime between May and September. Nashville's humidity will leave your socks soggy before you even get out of the parking lot.
Because Colorado and Nashville are both experiencing so much growth, most former Colorado residents are going to be making a fairly lateral move as far as real estate pricing goes. Nashville might still be slightly cheaper but won't stay that way for long.
What You'll Miss: Mountains, air that isn't so humid that you'll need gills.
What You'll Love: The mix of Western US's outdoor living with a Southern twist. People will like you just because you're from Colorado.
Nashville Neighborhoods
Like most mid to large cities, there are many micro neighborhoods and regions that locals will have strong opinions about. You can find many of those maps and guides by doing a quick Google search. Here are a few of the larger, more well known areas that new residents are most likely to move to.
Near The Universities (Nashville proper)
While downtown Nashville does have many residential areas, it is primarily a tourist location. But universities such as Vanderbilt, Belmont, and Lipscomb tend to attract more long term residents. These university neighborhoods are probably some of the most walkable, urban, yet still family-friendly spots in Nashville. They include some local parks, interesting restaurants, and local favorites like The Well Coffee House. Because of these perks, prices have gone up significantly in recent years.
East Nashville
East Nashville has gone from being "the other side of the tracks" to what locals consider to be a hipster paradise. The houses are still small and unique but cost significantly more now, and many of them have been updated and remodeled. East Nashville might be the current cultural hotbed of new Nashville. This is where you will find the most new up and coming bands, the greatest variety in restaurants, and possibly, maybe, if you're lucky, music that isn't country. (We jest. There is actually quite a flourishing independent music scene in the new Nashville.) East Nashville is still pretty walkable and convenient to a lot of what Nashville has to offer. It is definitely more of a cultural and artsy scene than a quiet family neighborhood, though.
Southeast Nashville/Antioch
This is currently one of the more budget-friendly areas of Nashville. A couple decades ago a lot of development money was poured into the area, and then it was left behind while the rest of the region gentrified and saw a lot of new money. As a result, there are still many great affordable houses. Nolensville Road is also the epicenter of Nashville's international community, making it home to many restaurants with flavors you won't find elsewhere. Shopping and conveniences can be found around the area, but the big news is that Ikea is coming soon (FINALLY) and a whole lot of new development is being planned for the area. So now might be a great time to consider buying before this area becomes as expensive as the rest of Nashville. You can also find one of ThriftSmart's two locations in this area.
Brentwood
Much like the Brentwood of Los Angeles, Nashville's Brentwood is considered an upscale neighborhood that values quality schools, a little bit of privacy, and convenient shopping. Brentwood is home to many of the healthcare businesses that are fueling Nashville's economy, so for new residents it may also be a convenient commute to work. You'll find a lot of shopping here, including Costco, Whole Foods, and more. Brentwood is much more suburban than further north but it is still starting to struggle with some traffic issues.
Franklin/Cool Springs
These two areas get lumped together regularly because they all have a Franklin mailing address. The neighborhood vibes, however, are almost polar opposite. Ten to fifteen years ago, most of what is now Cool Springs was corn fields and forest land. Now it is subdivisions, apartments, lots of chain retail stores and restaurants, and one of the area's nicer malls. It is building up rapidly and the city is working hard to make sure that the infrastructure is ready to handle it. There are many areas where there are four- or even six-lane roads with nothing on either side. But that won't last long because there are new office buildings, apartment complexes, and subdivisions popping up left and right. Everything is conveniently located. The only downside is that this area hasn't developed much of an identity yet, but that just means that you get to be a part of that!
On the flip side, Franklin has a very distinct identity! Steeped in Civil War history, it has a carefully-cultivated Southern small town historic feel to it. Franklin is home to many music industry people, is very community-oriented and has a great, walkable downtown. Franklin closes off the main streets for a variety festivals and events nearly monthly so there is always something going on. Despite the many historical sites around the area, the number of tourists is a bit lower than Nashville itself. Perhaps best of all, Franklin is home to another ThriftSmart location!
Getting Settled
Finding a Place To Live
Zillow/Redfin are probably the two best home finding websites for the Nashville area. Redfin is probably slightly more helpful for finding real estate, and Zillow is probably a bit better overall because it also includes rentals such as apartments, townhomes, and condos.
Craigslist is still good for finding apartments and is probably the place where you will find a deal. However it is full of scammers and even the real listings can be misleading just because the site isn't designed very well for finding apartments in a new area.
Padmapper is a newer app that is picking up some steam in the Nashville area. While not as developed as larger cities, Padmapper's coverage of Nashville area rentals is still pretty decent. This is because of the way that the app pulls from multiple sources such as Craigslist and apartments.com and overlays them on a map to give you a good idea of what you're getting into. It is kind of like Google Maps for apartments.
If you have the opportunity, just driving around the area can lead to some great opportunities. There are rental signs, open houses, and more peppered throughout the city's neighborhoods.
Moving
ThriftSmart has partnered with Two Men & A Truck for local charity drives including our Christmas in July coat drive. We would highly recommend them for getting your belongings safely to your new home. You can get a free quote here if you live are moving to Nashville and here for Brentwood/Franklin.
Getting Settled
Turning your new house into a home is of course going to be a process. Fortunately, now that you live in Nashville, you are surrounded by friendly neighbors and helpful people… plus a lot of great services!
Of course, ThriftSmart is a great option for home additions. If you've bought a larger home than your previous location, ThriftSmart has lots of great furniture and decorations to fill up your nest. But if you're downsizing and find out that your old sectional couch just isn't going to make it in your new apartment, we are happy to schedule a donation pick up!
Turf Managers is one of Nashville's best lawn care companies. If you are moving from a drier climate, you may want to consider how much care goes into a lawn when it rains regularly AND where there are all four seasons. Plus, lawns here are a big deal. Many of our new residents will enjoy caring for their new yards and lawns, but for those who don't see it as a relaxing hobby to dedicate their spare time to, we recommend contracting one of Nashville's many great lawn care services.
Since many of Nashville's new residents are young families, presumably with toddlers and infants, one of the best ways to maximize your time and energy is to have your shopping delivered. Google Express offers home delivery on everything. They deliver from actual local stores including Costco, Whole Foods, even Walgreens. It makes comparison shopping especially easy since everything is all on one app or website. It is similar to Amazon in that you can get a membership version (like Amazon Prime) which offers free shipping, or you can pay $5 per order for same day shipping on all of your items and groceries for non-members. Unfortunately Amazon Fresh is not yet available in Nashville, although rumors are that it is coming. You can tide yourself over with Amazon Prime Now in the meantime or you can get a $10 credit for Google Express here.
Now that you're here, take the time to enjoy one of Nashville's many community events. You can find a list of Franklin's MANY events here. And find out what is going on in the park in Nashville here. It is a great way to meet new people and make some lifelong friends.
Some great local guides and apps include:
And getting to know Nashville doesn't have to be expensive. Local columnist, Ms. Cheap has typically great advice on events and ways to save in the area, like this guide on 101 Free Things To Do This Year.
Getting Connected
Speaking of meeting new people, getting plugged into a new area can be challenging, but there are lots of ways to tap into Southern friendliness in the Nashville area!
One of the first ways that you may notice as you explore your new home is that you are never far from a church. If you are looking for a new church home, Nashville is often considered the buckle of the Bible belt and you have a LOT of options here. Many of the area's churches now have online streaming services, which can be a great way to narrow your search down without all the driving initially.
Another great way to get involved in the community is by volunteering. ThriftSmart could always use some good volunteers, and many of our community partners would be a great way to start off your community building the right way.
Of course there are many other great ways to get out there and meet people in the area through common interests and hobbies, so just do a quick Google search or check out MeetUp for whatever your favorite pastimes are, and odds are that you'll find a group looking for someone just like you to join! And if that doesn't work, you can always check out the local Nashville Reddit group. They always have great tips for visitors, information about upcoming events, or just general complaints about local politicians, traffic, and the pedal taverns around the downtown area.
So welcome, y'all, to the greatest city in the South! We will try to keep this guide updated with the latest news and best events that new members should be aware of. So check back regularly, or just stop in to your nearest ThriftSmart location and ask us for some tips! We're always happy to make a new friend!